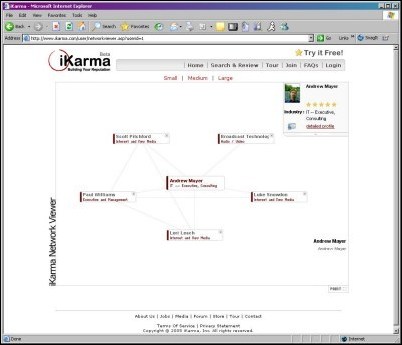 For the last five years
JUPITER, FLORIDA (PRWEB) August 29, 2005
iKarma Inc. (http://www.iKarma.com) today announced the release of the iKarma Network Viewer, a feature expansion that incorporates powerful new business networking tools into their online reputation management service.
Using state-of-the-art visual "mind map" technologies, the Network Viewer allows iKarma users to examine and navigate the network of iKarma user relationships with an interactive Flash-based interface. Relationships between iKarma members are illustrated as an animated web of visual connections - expanding, contracting and delivering member reputation details from the comfort of the user's mouse pad.
"For the last five years," says iKarma CEO Paul Williams, "the success of online business and social network services have shown that people want to see how their lives connect with others. This move was a natural step for us - to build tools that simplify that process of relating, that use the most sophisticated relationship-mapping technology available today to bring value and purpose to the most casual business relationship.
"The iKarma Network Viewer demonstrates word-of-mouth power at the convenience of a mouse click. We're very excited about its potential to help build businesses and invigorate honest professional relationships."
iKarma.com launched their new online reputation management service on August 6.
About iKarma, Inc.
Based in Jupiter, Florida, iKarma Inc. specializes in providing reputation and customer feedback systems for businesses and professionals. iKarma Inc.'s mission is to help create prosperity and commerce by bring greater trust and openness to business transactions. iKarma, iKarma.com, eReputation and eReputation.com are all servicemarks owned by iKarma Inc.
For more information, visit http://www.iKarma.com.
# # #