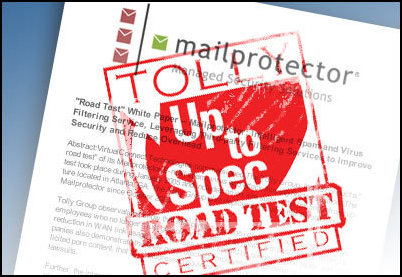 It's good to get an unbiased, independent confirmation of what you've always known
Greer, SC (PRWEB) August 31, 2005
VirtualConnect's managed email security service, Mailprotector® has been independently certified as 'Up-to-Spec' by The Tolly Group in its first-ever certification of a managed solution.
The Tolly Group, much accustomed to certifying network infrastructure components from companies like Cisco, HP, Nortel and 3Com, recently created a new type of its "Up-to-Spec" certification called a 'Road Test' especially designed to test managed applications.
"With the growing popularity of managed software solutions, customers need to know a company is what it claims to be, especially if they are going to trust business-critical data to these providers," said Kevin Tolly, president/CEO/founder of The Tolly Group. With this in mind, VirtualConnect commissioned The Tolly Group to review Mailprotector, its managed email security service that protects against spam, phishing, viruses, vulnerabilities and attacks.
In a first for a managed service, Tolly Group engineers actually visited VirtualConnect's facilities for a physical inspection of Mailprotector's infrastructure. The Tolly Group's report describes the test methodology used, Mailprotector's performance, and The Tolly Group's own experiences using Mailprotector.
Tolly Group engineers reported that Mailprotector: "is simple to set up and deploy … provides users with immediate reductions in spam … allows users to check blocked messages for 'false positives' … significantly reduces the management overhead associated with keeping client and server anti-virus definitions up-to-date … boosts employee productivity," and "protects users from offensive spam and unsolicited porn content that left unaddressed could expose organizations to potential lawsuits."
"It's good to get an unbiased, independent confirmation of what you've always known," said VirtualConnect CEO David Setzer. "We've invested a great deal in our technology, our support staff, and our infrastructure," Setzer added.
The report supports Setzer's assertion that "the VirtualConnect network infrastructure is configured with no single point of failure in order to ensure reliable email delivery." An all-important point since a critical factor in deciding whether to integrate a third-party service is assurance of the security and resiliency of their underlying infrastructure.
"To the best of our knowledge," said Setzer, "we are the only managed email security provider that has submitted to a third-party audit of our systems and infrastructure and published the results."
"For years our customers have been telling us that they love our service, and trust us to be there for them 24/7," Setzer said. "Now we, and they, have independent, authoritative confirmation that their faith in us is well placed!"
A copy of The Tolly Group's Road Test of Mailprotector is available for download at http://www.mailprotector.net/roadtest/.
About Mailprotector
Protecting users since 1999 and originally launched as an Exchange spam filter, Mailprotector helped pioneer the managed email security industry. Today, Mailprotector provides uninterrupted virus and vulnerability scanning, spam and phishing filtration, attack and email backup protection services to more than 1,500 organizations on five continents. For more information about Mailprotector, or a Free 30-Day Trial, visit: http://www.mailprotector.net, email: sales@mailprotector.net, or call: 800-393-4840 or +1-864-288-9595.
About The Tolly Group
The Tolly Group, an independent testing and strategic consulting organization based in Boca Raton, FL., offers a full range of services designed to furnish both the vendor and end-user communities with authoritative and unbiased information. The Tolly Group is recognized worldwide for its expertise assessing leading-edge technologies. For more information on The Tolly Group's services, visit: http://www.tolly.com, email: info@tolly.com, or call: (561) 391-5610.
Contacts:
Brett Pyle
Virtual Connect Technologies, Inc.
(864) 288-9595 x235
bpyle@virtualconnect.net
Charles Bruno
The Tolly Group
(407) 362-1740
cbruno@cfl.rr.com
# # #