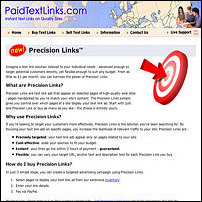 We believe that Precision Links represent a bona fide innovation in the field. None of our competitors offer online advertising that gives the buyer complete control over which pages will display their text link ad
Perth, Western Australia (PRWEB) September 3, 2005
Precision Links™ is the latest text link advertising solution on offer at http://www.paidtextlinks.com. The new product aims to appeal to advertisers looking for a flexible and cost-effective online advertising solution.
The Precision Links™ solution gives advertisers control over the URLs on which their text link will appear. Advertisers can examine a site's pages for relevance, and advertise only on those pages closely related to their site's content. This approach offers several benefits: visitors to the advertising site are more likely to click on a closely related text link ad, and traffic generated from precisely targeted advertising has a higher chance of resulting in a sale or lead.
"When buying Precision Links, advertisers can visit specific pages they wish to advertise on to assess quality, subject matter and relevance, which provides better results than buying text links on the basis of subject matter or site statistics alone," remarked Dr Markus Weichselbaum, the inventor of Precision Links™.
Paidtextlinks.com's fully automated self-service system is designed to greatly simplify the text link buying process. Prices are automatically calculated and displayed, and source and target URLs are immediately validated to ensure a rapid and error-free transaction. Once paid for, all links are instantly displayed on the selected pages.
Subscriptions are available for periods of 1, 3, 6 and 12 months, with significant discounts for subscriptions longer than one month. Advertisers can choose from a wide range of quality sites designed to maximize exposure to their target audience. The inventory provides access to over 200 sites that accept paid text links, with a varied selection of popular sites such as http://www.all-karate.com, http://www.nutrim.net and http://www.surfyshop.com. All text link advertisements are validated daily to ensure that they are visible and viable. In keeping with this commitment to link viability, all links are clearly and prominently displayed, rather than being buried in an obscure area such as the page footer.
Like the standard index-page and run-of-site (ROS) links available at Paidtextlinks.com, Precision Links™ can be as short as just one line or as long the advertiser desires, with additional text before and after the clickable link. The base price for each link is based on one line of text and increases with the number of lines used, allowing for advertising text comprising full paragraphs with an embedded link.
Precision Links'™ flexibility allows advertisers to structure their online advertising campaign according to their individual needs, as they can precisely match their advertising text to the content of pages displaying their links. Budget-conscious advertisers benefit from ground-breaking low prices on Precision Links™, beginning at just $1 per link per month - a dramatic saving compared to the $15 and $30 minimum spend currently required for index-page and ROS advertisements. The price for Precision Links™ varies for different pages within a site, and increases depending on a page's traffic and popularity.
"We believe that Precision Links represent a bona fide innovation in the field. None of our competitors offer online advertising that gives the buyer complete control over which pages will display their text link ad," commented Dr Weichselbaum. "Precision Links™ are a low risk solution for those new to text link advertising or those who wish to trial its effectiveness, since it's fully scalable and can be adapted to suit any budget."
For further information on Precision Links, please visit http://www.paidtextlinks.com/precisionlinks.html
Company Information
Paidtextlinks.com is a service provided by Cherry Internet Services Pty Ltd, a privately-held company headquartered in Perth, Western Australia that specializes in web publishing and internet advertising solutions. For more information, please visit http://www.cherryis.com.
Contact
Markus Weichselbaum
Cherry Internet Services Pty Ltd
Ph +61 8 9328 3008
Fx +61 8 9328 3205
###