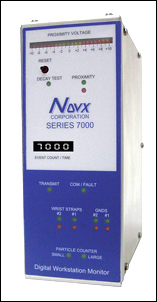 San Jose, Calif. (PRWEB) September 5, 2005
Novx Corporation, the leading supplier of ESC/ESD-related monitoring instruments, cleanroom and ESD protective work area monitoring and control solutions, is introducing the next generation process monitoring and control instrument the NanoPulse Series 7000.
The NanoPulse sensor has been developed for ESD/EMI applications requiring a constant dedicated monitoring strategy in highly constrained processing environments. The combination of smart signal processing to identify ESD events from most background noise with the freedom to adapt antenna types and configurations for specific applications makes it a valuable addition to process monitoring. The NanoPulse uses dynamic threshold analysis to determine ambient noise level and form the first part of ESD pulse event discrimination. It also addresses a spectral range of 1MHz to 8GHz, which accommodates ESD event bandwidth as well as most commonly encountered electromagnetic noise frequencies.
The NanoPulse also tracks electromagnetic noise levels separately from ESD event detection and analysis, allowing separate alarm reporting. Alarm reporting levels for both ESD events and EM levels are user programmable. The instrument facilitates direct reporting of monitored parameters from a significant number of tools and may be simultaneously interfaced to the process tool and monitoring system (PEMS) for data storage and report generation. The Series 7000 monitor and its associated workstation and/or process equipment, has the capability to directly perform SPC calculations and direct tool communication in addition to previously available reporting functions.
Another feature of the NanoPulse is antenna independence. Both active and passive antennas in a variety of configurations can be implemented to further tune ESD event detection. In some cases, specialized antennas can be implemented which are direct analogs for very sensitive product and which can correctly represent true product vulnerabilities to radiated energy. In applications with accessibility and space restraints, small form-factor antennas can be installed directly at the monitoring point with sensor processing taking place in the Series 7000 at a more accessible location.
This instrument is capable of communicating with industry standard particle counters and particle detectors in addition to its own ESC/ESD-related monitoring capabilities with the ability to report data using RS-485, ModBus, Ethernet, Wireless Ethernet (802.11a/b/g) protocols. Additional capabilities include detection of field charge (ionization balance monitoring) with automatic or manual decay testing, EMI magnitude and pulse counting, dual-channel ground monitoring and operator voltage or body current detection (patent pending) all with programmable alarm thresholds via a PC interface. Novx has developed this instrument with customer programmable sensitivity and alarm threshold sensing to meet and exceed customer requirements for an extended period of time. The instrument is designed with a modular construction allowing the user to add optional plug-in process enhancements as required. The plug-in modules include digital I/O communication adding direct interface to PEMS, particle count reporting, field sensing with decay testing, EMI detection, operator body voltage or current and ground monitoring. The combination of hardware and software allows the user to monitor, analyze and control processes 24/7 365 days a year.
The introduction of the Series 7000 represents a direct response to strategic customer communication that defines their process requirements for ESC/ESD-related monitoring for today and tomorrow's processes. The digital I/O communication plug-in module provides a proactive function when interfaced to PEMS to receive and report warning or alarm conditions to control the process. This platform will directly reduce process variations, decrease scrap/rework and improve process yields at the specific workstation level. The result will be process yield improvement, an increase in tool availability resulting in an increase in factory capacity. Utilizing the Series 7000 will result in a more accurate way of evaluating operator and tool performance and complements the Novx complete line of ESC/ESD-related instruments and environmental sensors. A single sensor may also be connected to the instrument when interfaced to the PEMS Software, ideal for workstation characterization. In addition, a real-time alphanumeric display (Remote Display) for engineering analysis and continuous monitoring can also be connected to the Series 7000. The Remote Display includes body voltage levels, ground resistance values, field charge (ionization balance) levels, EMI count and peak voltage.
Features
Tracks EM Noise Levels
Dynamic Threshold Analysis
Independent EMI/ESD Event Detection
User Programmable Alarm Levels
Field Charge/Ionization Balance Monitoring
Ionizer and Closed-loop Feedback
Body Voltage or Current Detection
Remote Monitoring and Proactive Control
Dual-channel Ground Monitoring
Decay Testing
EMI Detection and Reporting
SPC for Direct Tool Interface and Control
Wireless Ethernet (802.11a/b/g)
Critical Alert Notifications
Digital I/O Communication
The Series 7000 is the next generation product for enhanced process control capability, while significantly reducing the cost of purchase, cost of ownership and cost of upgrading to meet tomorrow's requirements. http://www.novxcorp.com/series_7000.htm
About Novx Corporation
Novx founded in 1989, is a leading provider of workstation/process equipment monitors and process environment management solutions. The company provides products and services to the semiconductor, storage device, flat panel display, electronics manufacturing services, medical and many other industries.
Novx customers use its products and services to monitor electrostatic charge, and the process environment, thereby; improving manufacturing yields, finished product quality, and manufacturing equipment performance. The shrinking geometries of today's electronic devices place greater importance on knowing what is happening within your processes. Novx hardware and software solutions make this possible, reliable and affordable. Novx assists customers in achieving higher productivity levels by mitigating the adverse effects of Electrostatic Discharge (ESD), Electromagnetic Interference (EMI) and Electrostatic Attraction (ESA) from the manufacturing environment. The introduction of the Series 7000, communicating directly with PEMS, Novx can now supply the complete environmental monitoring solution, thereby reducing scrap and improving product quality in any manufacturing environment. On the web at http://www.novxcorp.com
Novx Corporation is headquartered at 830 Jury Court, San Jose, CA 95112, (408) 998-5555 ph, (408) 998-1414 fax, 1-800-728-Novx
Editorial Contacts
Steve Heymann, CEO, Novx Corporation, (408) 998-5555 x303, steve@novxcorp.com
Lem Hollins, Vice President of Marketing and Sales, Novx Corporation, (408) 998-5555 x306, lem@novxcorp.com
# # #