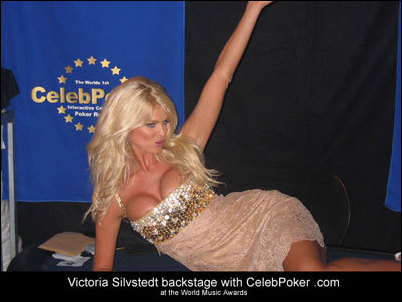 (PRWEB) September 6, 2005
CelebPoker was in the house for the '05 World Music Awards backstage. As the celebrities walked in, Celebpoker lavished them with free gifts and merchandise from the world's first online celebrity poker room – CelebPoker.com.
The show was hosted by Carmen Electra and Desperate Housewives star James Denton. Both performers took a moment to come by and share poker stories before heading upstairs to host the show. Although Mr. Carmen Electra, rocker Dave Navarro, couldn't attend, he still made away with a CelebPoker VIP pass and will be getting in on a few hands in the weeks to come. The response gained from the attendees of the show towards CelebPoker was fantastic. Judging by the time spent talking poker and trying out the system it would be a safe assumption to make that there will be a large new crop of top celebrities seen this fall on CelebPoker.com
Artists and entertainers such as Bon Jovi, Nick Lachey, Paula Abdul and others stopped by to talk hold'em and sign a few poker tables to be auctioned off to children's charities. Supermodels Victoria Silvstedt, Carrie Stevens and Tracy Bingham were also seen around (and on top of) CelebPoker's tables during the event.
Creating a "buzz" in the poker industry is a hard thing to do. With all the options available to the players there is stiff competition. However, as seen this week at the World Music Awards there is only one poker room big enough to go "heads up" with A-List celebrities and gain respect from poker pro's across the world. CelebPoker was the only poker room seen by players, celebrities and pro's this week in Hollywood. Establishing themselves as the "celebrities choice" when it comes to playing a couple hands on the road, at home or in person. CelebPoker.com is the player's choice as well. People from all walks of life came by to share their CelebPoker feats and defeats. We heard from actor Lou Diamond Phillips about miracles at the high stakes, no limit tables. Also shared were stories about bad beats from camera men and stage crew on the smaller limit tables. CelebPoker is the room of choice for most of Hollywood's elite.
Many people in the US are very familiar with the television show, "Celebrity Poker Showdown" on the Bravo Network. For many people this is the only celebrity poker experience they know of. With the boom of online poker to the world there is a new option for celebrity interaction and it's at the tables. Joining top celebrities like James Denton, Nick Lachey, Babyface and more players can get right into the mix with their favorite television and recording stars to create an exciting and lasting night of poker. Imagine the next poker conversation starting out with, "last night I was heads up with Dave Navarro and got beat on the river." No one else other than CelebPoker.com can bring you this close to the action and excitement playing poker with real celebs in real time.
CelebPoker allows players from all over the world to interact with celebrity poker players at the tables online. Anyone can join in the action, 24 hours a day, and find a table to start playing on. CelebPoker deals out hands in every limit structure and even offers players dozens of No-Limit tables to become poker celebrities of their own. By far the most entertaining poker room on the internet, CelebPoker brings the real excitement of poker back to the players.
Serious poker players, newcomers and celebrities alike can be found at CelebPoker. With the poker vibe alive in Hollywood and celebrities from all over the world joining the list, CelebPoker is making its way to the top choice among all online poker players. You can check out the poker action right now for free at CelebPoker.com and find out what the "buzz" is all about. Join the world's first celebrity poker room free now at http://www.celebpoker.com.
###