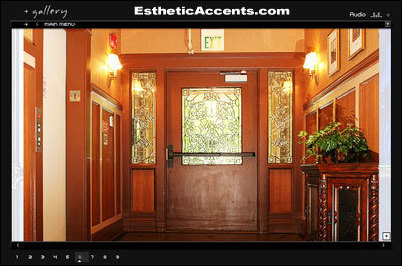 Esthetic Accents stained glass will offer substantial savings to our customers. I'm excited to be able to offer something so new and different to our clientele. I'm eager to begin.
Portland, OR (PRWEB) September 6, 2005
The nation's door and window dealers are excited about finally being able to offer their customers a real choice. For years customers who wanted stained glass in their corporate facilities, businesses or homes, had to choose between expensive custom glass made by individual artisans or inferior stock products. No longer. Esthetic Accents of Portland, Oregon has made sturdy, affordable, and appealing mass customized stained glass available to the consumer and B2B marketplace for the very first time.
According to Mary Spear the CEO and founder of Esthetic Accents, "As dealers, decorators, and designers have become aware of our glass, they get excited. They tell us they are pleased to have found us at just the time when their customers are asking for the kind of stained glass we offer. We have done something they thought wasn't really possible. There was a growing demand that just wasn't being met. We are signing up dealers by the dozens. Customers are even beginning to ask for our products by name."
The buzz is spreading. Dealers and customers alike have become aware of the innovative glass Esthetic Accents fabricates thanks to interest generated by its participation in trade shows such as [Which ones should we name here?], appearances on home improvement programs on television programs and word-of-mouth. The interest is likely to increase this fall with a number of stories scheduled to appear in an increasing number of national magazines such as Woman's Day and Architectural Record.
Until now door and window dealers, as well as interior decorators and designers have not had stable, high quality resource for architectural stained glass. But just in time to meet the growing demand, Esthetic Accents has launched a program that will make it easy for dealers to serve their customers efficiently, quickly, and at a highly affordable price. One of the outstanding features of the dealer program is a selection and pricing tool that dealers can use with their customers to quickly order the glass they need. Available online at the Esthetic Accents website (http://estheticaccents.com) or on CD, the tool is a true innovation in the home improvement marketplace. The entire ordering process is made easier than it's ever been. Orders can be initiated in 90 seconds or less.
The momentum is building fast. Many of the dealers that have signed up in the short time since the program was offered include some of the most prestigious designers, decorators and door and window dealers in the US and abroad. These include:
Hansen Architectural
Neil Kelly
Interior Motives
Accurate Door and Window
Park Place Cabinets
Hayes Interiors
Pegasus Design
Suburban Door
Jeld-Wen, Lake Oswego
The first dealers to adopt the program are already pleased with the results.
Robin Fisher, owner of Pegasus Design in Portland said, "Esthetic Accents is just wonderful to work with. They offer an amazing product at a surprisingly affordable price. It allows our clients to have many more choices. The dealer desktop tool is fabulous to work with – it's just so easy to use. I priced out a project in just a few seconds. It took me hardly any time at all. I'm quite impressed."
Tammy Lefever, the CEO of Interior Motives, also of Portland, said, "Esthetic Accents stained glass will offer substantial savings to our customers. I'm excited to be able to offer something so new and different to our clientele. I'm eager to begin."
The dealer program will be featured at the Esthetic Accents booth 571 at HD Boutique, the best and most prestigious show for home improvement products in the US. It will be held this year at the Miami Beach Convention Center, Miami, Florida, September 14 and 15. Only products chosen by the trade show's sponsoring body are allowed to exhibit at the highly selective annual event.
About Esthetic Accents
Esthetic Accents design professionals combine personalized service and the convenience of the Internet to provide excellent customer service nation-wide. Our online showroom and design center, toll free number and knowledgeable design staff make navigating through the design process straightforward and enjoyable. Esthetic Accents leverages the power of the Internet by accessing PRWeb's Online Visibility Engine, making easier for interested parties to learn about its breakthrough custom architectural stained glass technology.
# # #