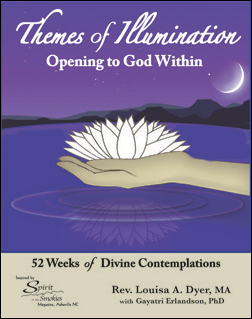 Themes of Illumination, Opening to God Within
Asheville, NC (PRWEB) September 7, 2005
Discover the freedom of true Self expression, which honors the material world as well as the spiritual. This new book offers easy steps to greater clarity and personal power, without religious dogma or sexist stereotypes. "Themes of Illumination, Opening to God Within" feeds both body and soul. To rediscover Divinity as the core of Self clearly provides infinite opportunities on every level. To understand how "Themes" can guide and support a transformation of life, visit http://www.trafford.com/05-0696.
Using everyday language, from one who long inhabited the pits of hell-on-earth, "Themes of Illumination" provides simple guidance for discovering heaven, here and now. From poverty, addiction and suicidal depression, Rev. Louisa Dyer now loves life and knows how anyone can live the life of their dreams. No pollyanna's or preaching - just straightforward instructions to eliminate fear, self-loathing, confusion and other senseless suffering. To contact, or to preview the philosophy of the author, now an Interfaith Minister, Counselor and Metaphysician, visit http://www.louisadyer.byregion.net.
"Themes" details a path home to Divinity while offering practical, personalized, spiritual support. Each chapter is very short, with suggestions and contemplations that can quickly change your life. Focusing on one chapter per week, the reader is compassionately guided on a profound and powerful journey to greater spiritual understanding. "Know Thyself" is key. To read excerpts, visit http://www.trafford.com/05-0696.
In this easy to read workbook, Rev. Dyer combines practical wisdom from numerous faiths, with proven behavioral psychology methods, and new understandings from quantum physics about the nature of life itself. Presented in a sensible format, "Themes" offers an exciting breakthrough for accelerated spiritual progress.
With a Masters Degree in Counseling Psychology and over 20 years of clinical experience, Louisa is known nationally for her down-to-earth writing, counseling, and guided meditation CD's. She has been a magazine editor for over 10 years, first in Albuquerque, NM then in Asheville, NC. Happy to be home in Appalachia, she provides holistic counseling nationally. To read a brief interview, visit http://www.spiritinthesmokies.com and/or contact her through http://www.louisadyer.byregion.net.
See excerpts and order online at: http://www.trafford.com/05-0696, or call toll free: 888-232-4444. For author profile, visit http://www.louisadyer.byregion.net or http://www.spiritinthesmokies.com.###