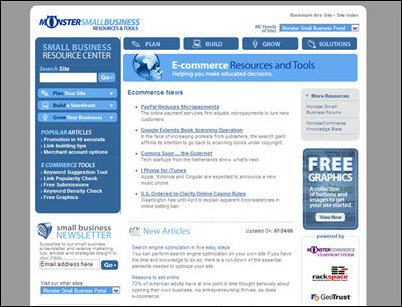 BELLEVILLE, IL (PRWEB) September 8, 2005
In an effort to provide added value for its rapidly growing client-base, MonsterCommerce announced a redesign and re-positioning of the MonsterSmallBusiness Resource Center, available at http://www.monstersmallbusiness.com. The new site hosts articles about starting, building and growing an e-commerce site and provides features such as free, downloadable website graphics, web marketing tools, latest industry news and an e-commerce message board.
By providing information and guidance in a variety of subject areas regarding online selling, the launch of MonsterSmallBusiness.com fits in line with the company's goal to provide a one-stop, turnkey solution for small businesses to sell products and services online.
The content is written and edited by MonsterCommerce staff members. MonsterCommerce has offered shopping cart services, domain registration, hosting solutions, merchant accounts, online marketing and web design services for years, dating back to the company's inception in 1998.
"Because MonsterCommerce holds client support as one of our top priorities, we are always hearing about the questions and concerns of e-commerce site owners," said MonsterSmallBusiness.com web content editor Erin Eschen. "This is a way for us to address many of their information needs in one place."
In May, a report released by the Department of Commerce stated that U.S. internet retail sales rose 23.8% in the past year, reaching $19.8 billion in the first quarter of 2005 alone.
As e-commerce grows rapidly, MonsterCommerce continues to look for fresh and innovative ways to provide more useful tools and resources that will help online business owners become more successful with online selling.
The revamp of this site comes on the heels of a complete redesign and restructuring of other websites that promote MonsterCommerce services, including http://www.monstercommerce.com, http://www.monsterwebpromotion.com and http://www.monsterwebdesign.com.
###