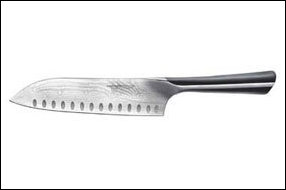 The knives' beautiful form always follows from high-performance function.
Toledo, OH (PRWEB) September 7, 2005
Navigating the sea of traditional German steel kitchen knives that saturate the cutlery sections of most stores, it's no wonder shoppers' eyes glaze over. But a stand-out new high-performance Japanese stainless steel cutlery line with unique Japanese-influenced style is cutting cleanly through the clutter.
Calphalon® Katana Series™ kitchen cutlery is named for the sword carried by Japan's Samurai warriors and has its roots in a centuries old tradition of superior Japanese craftsmanship. Each knife features an inner core of VG Japanese steel—a limited production stainless steel with an extremely high carbon content. VG steel imparts exceptional sharpness to the knives and retains its edge better than traditional German stainless steel.
Like the swords wielded by the Samurai, Calphalon Katana Series kitchen cutlery is crafted by means of an intricate layering process. Thirty-two layers of stainless steel surround and protect the cutlery's VG steel core. The layering process not only imparts exceptional durability and deters food from sticking to the blade. It also gives the knives their "Damascus-style"-- a subtle, distinctly beautiful, marbled surface pattern unique to kitchen cutlery crafted by means of this layering process.
"The beauty of Calphalon Katana Series kitchen cutlery isn't just skin deep," explains Calphalon Senior Product Manager, Scott Fedor. "The knives' beautiful form always follows from high-performance function."
The Calphalon Katana Series Kitchen Cutlery collection includes several authentic Japanese blades, such as the Santoku (the Japanese equivalent of a chef's knife) and the Nakiri (a rectangular Japanese vegetable cleaver). Popular European shapes, including chef's knives, paring knives and utility knives, are also available. The Calphalon Katana Series is truly an international collection of cutlery that's ideal for any kitchen and any type of cuisine." A uniquely tiered bamboo storage block, designed to accommodate the cutlery's integrated bolster, completes the collection.
Calphalon Katana Series kitchen cutlery is available at Amazon.com, Bed Bath and Beyond, Cooking.com, Dillards, Foley's, Famous-Barr, Linens-N-Things and other fine retailers. An 8-piece set and a wide selection of open stock pieces are available, with suggested retail prices of $29.99 to $299.99.
For more information visit http://www.calphalon.com/cutlery.
About The Calphalon Group
Based in Toledo, Ohio, The Calphalon Group (http://www.calphalon.com) is the leading manufacturer of professional quality cookware, cutlery, bakeware and kitchen accessories for the home chef. The company is a division of Newell-Rubbermaid.
Contact:
Susan Doktor
419-662-2298
# # #