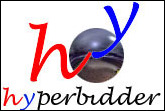 Porterville, CA (PRWEB) September 8, 2005
Hyperbidder (http://www.hyperbidder.com), a new Online Advertising Portal, today announced that it added RealGM (realgm.com), and Date.com to its growing client list.
Hyperbidder, ever since its launch eight weeks ago, managed to successfully reach out, promote, and educate its new advertising concept. By doing so, it continues to accumulate some large publishers. Hyperbidder Founder, and CEO Galip Talegon says, "It is educating public, or marketing directors to grasp the Hyperbidder process rather than selling at this point". Hyperbidder currently sells ad space for Publishers with 165 million plus page views per month combined. This is more than 300% jump from last month's numbers.
About Hyperbidder:
Hyperbidder empowers the advertisers by letting them determine how much they should pay for an ad space on a specific web site. Ad sellers post their available ad space on Hyperbidder where advertisers find and place a bid to receive placement for their ad media, usually a banner or a button advertisement. Hyperbidder differs when it comes to all known auction sites, such as Ebay, as with Hyperbidder, not just the highest bidder, but also all bidders win when it comes to advertising. Advertisers bid on ad campaigns to receive the higher percentages on the ad rotation to a specific ad campaign. The higher the bid amount, the higher percentage the advertiser's ad is displayed on the publisher's (ad seller's) web site. This way, advertisers determine a specific web site's real ad value. With Hyperbidder, all available ad space on a given site can be posted for bidding. http://www.hyperbidder.com
About Date.com:
Every relationship begins with a date. Date.com is a community committed to helping its members find and maintain the best relationship for them. Launched in 1997 and re-launched in 2001 as a subscription based service, the site has approximately two million active members worldwide with over eight million members since 1997. Date.com members range in age from 18 to over 80. The premier resource for all dating and relationship needs, Date.com melds personality profiles, chat and IM, with our proprietary interactive Webzine, Date Info, which features monthly polls and expert advice about dating, relationships, entertainment and health.
About RealGM.com:
RealGM.com, established in 2000, was created with the pro basketball fan in mind. RealGM.com provides accurate and interesting information of all types, simulators for fans to test their skill, and active forums where fans are able to share knowledge and opinions. http://www.realgm.com
About Ebay:
eBay is The World's Online Marketplace(R). Founded in 1995, eBay created a powerful platform for the sale of goods and services by a passionate community of individuals and businesses. On any given day, there are millions of items across thousands of categories for sale on eBay. eBay enables trade on a local, national and international basis with customized sites in markets around the world. Through an array of services, such as its payment solution provider PayPal, eBay is enabling global e-commerce for an ever-growing online community.
###