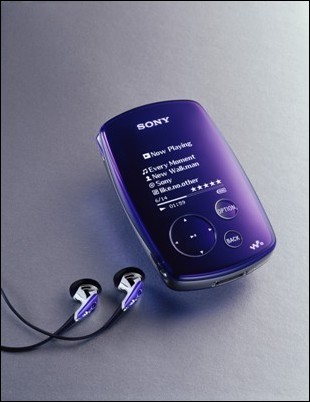 We are raising the bar with the new Sony WALKMAN
(PRWEB) September 8, 2005
PRWEB) September 8, 2005 -- Stunning new Sony WALKMAN MP3 players announced.
26 years after WALKMAN created a revolutionary music lifestyle, the new Sony WALKMAN will now redefine it. Simply called 'WALKMAN,' the new Sony MP3 player features spectacular ergonomic design and an exciting range of intelligent features that allow owners to enjoy music in a totally new way.
Full story at http://products.sony.co.uk/walkman_hd.asp
Sony WALKMAN, available in two capacity sizes - 20GB (NW-A3000) and 6GB (NW-A1000), also features two new shuffle functions. By selecting 'My Favorite Shuffle,' the Sony MP3 player automatically selects the most listened to 100 songs and plays them at random. The 'Time Machine Shuffle' function randomly selects a year and plays all of the songs from that particular year that are currently held on the device.
Sony WALKMAN is a true extension of the user's personal taste and musical preferences. At the press of a button, the 'Artist Link' function will search every artist, album and song stored on the MP3 player and offers suggestions of artists and bands closely linked to the genre of music being played at the time.
Featuring an advanced organic EL display (2 inches on the 20GB NW-A3000 version and 1.5 inches on the 6GB NW-A1000 model), Sony WALKMAN not only incorporates a range of great features, it also offers the ultimate in ease of use through an appealing user interface and fantastic visibility.
Once switched on, a mobile phone style 'Home' menu appears offering nine different options that can be selected via the four-way directional button. These include 'Music Library,' 'Play Mode,' 'Initial Search,' 'Intelligent Shuffle,' 'Favorite 100,' 'Play History,' 'Settings,' 'Playlist' and 'Now Playing.'
Music can be searched in a variety of ways, via 'Genre,' 'Artist,' 'Album,' 'Song,' 'Release Date,' 'Rating' and 'Recently Transferred,' all of which can be scrolled through to enable users to find their music faster and easier. Sony WALKMAN records three years of playback history that can be searched and also features the first ever 'Initial Search' on a hard disc device, allowing the user to scroll from A-Z for ultimate ease of use.
"We are raising the bar with the new Sony WALKMAN," said Gregory Kukolj, General Manager at Sony Europe. "These stunning new MP3 players will be instantly appealing to both style followers and technology-minded individuals alike. One drawn by the spectacular design and the other by the outstanding ease of use and features that really deliver. The new Sony WALKMAN is an irresistible proposition for people who want the ultimate digital music player."
The 20GB Sony WALKMAN is available in two stylish colours, violet and silver; while the 6GB unit comes in the additional colours of pink and blue. All models are packaged with colour-coordinated headphones.
The NEW WALKMAN will be simultaneously introduced with a whole range of design-matching accessories such as a stylish remote control for easier navigation, various carrying cases, a docking station for convenient connection with the PC as well as a docking speaker system giving the option to both connect to a PC as well as playing music through the speakers.
Sony WALKMAN features ATRAC3plus and MP3 playback and ships with the new "CONNECT Player" that offers advanced music library management as well as providing seamless access to the CONNECT™ catalogue of more than one million tracks and albums available for download.
"CONNECT Player" incorporates a new and improved user interface that features a simple 'drag and drop' function for easy transfer from library to player. "CONNECT Player" supports the new functions within Sony WALKMAN as well as providing automatic software updates and increased Codec support.
NOTES TO EDITORS
Please find below further details about products and services highlighted in the Press Release:
CONNECT™ - Music downloads powered by Sony
Sony Europe launched its European online music download service in July 2004, starting in the UK, France, Monaco and Germany, and now available in the Netherlands, Austria, Switzerland, Belgium, Luxembourg and Ireland. CONNECT™ offers more than one million songs including albums and singles from both major and independent record labels and focuses on creating locally adapted services. Tracks are available in the ATRAC3 format at a price starting at €0.99 per track, or £0.79 in the UK.
CONNECT™ is available at http://www.connect-europe.com
ATRAC3plus
ATRAC3plus is the audio compression technology from Sony. Consumers can choose different levels of compression when recording music from CDs onto their PC using CONNECT Player. ATRAC3plus has been developed to offer the best sound quality, especially at high compression rates.
For more information, please contact:
Jean-Baptiste Duprieu, Sony Europe
email: [email protected]
About Sony
Sony manufactures audio, video, communications and information technology products for the global consumer and professional markets. With its music, pictures, game and online businesses, Sony is uniquely positioned to be one of the World's Leading Consumer Brands. Sony recorded consolidated annual sales of EUR 53.43 billion (yen 7,160 billion) for the fiscal year ended March 31, 2005 and it employs approximately 151,400 people worldwide.
In Europe, Sony recorded consolidated annual sales of EUR 12.03 billion (yen 1,613 billion) for the fiscal year ended March 31, 2005, based on an average market exchange rate for the same period of yen 134 to the EUR. Sony Europe, headquartered at the Sony Center am Potsdamer Platz in Berlin, is responsible for the company's European electronics business and registered consolidated sales of EUR 8.87 billion for the fiscal year ended March 31, 2005.
For more information on Sony Europe, please visit http://www.sony-europe.com and http://www.sony-europe.com/presscenter
# # #