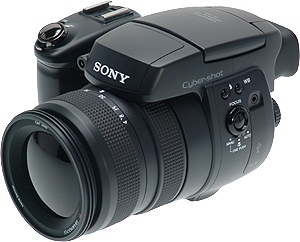 (PRWEB) September 8, 2005
Sony announces 10.3 Effective Megapixel Digital Camera with Zeiss 24mm Wide-Angle Lens.
Professional image quality, integral wide angle - telephoto lens, revolutionary shooting style
All-in-One professional quality solution
The Sony Cyber-shot R1 is the world's first digital camera that combines a large 10.3 effective Megapixel CMOS sensor, and a high quality 24mm - 120mm (35mm) ZEISS Zoom lens in the same body, allowing 'live' viewing with the free-angle LCD screen. It is the latest breakthrough in high-class image quality at an affordable price.
Full story at http://products.sony.co.uk/sony_dsc-r1_asp.asp
Large Size 10.3 effective Megapixel CMOS
Top-class image quality is guaranteed through the inclusion of a large-sized Sony CMOS image sensor (effective 21.5mm x 14.4mm), uniquely designed to significantly improve dynamic range, sensitivity, and signal-to-noise ratio. The large Sony CMOS sensor is able to capture more light, reducing noise levels, allowing higher shutter speeds, and therefore reducing the effects of handshake for beautifully clear, true to life pictures. Picture blur is significantly reduced because of the camera's high sensitivity capability, with noise being simultaneously reduced as a result of the newly developed Clear RAW NR feature. The signal is amplified within each pixel, resulting in ultra-fast signal transfer, no smear and ultra low power consumption.
Carl Zeiss Vario-Sonnar T* quality and flexibility
The dedicated 24mm-120mm (35mm) wide-angle zoom lens of the Cyber-shot R1 is integrated into the body of the camera. With its F2.8-4.8 aperture, the camera is designed to exacting specifications for optimum performance, reduced internal reflections and fast, quality photography, even at low light levels. Images taken by the Cyber-shot R1 are razor-sharp with excellent colour and contrast rendition.
The unique 'short back focus design' of the Cyber-shot R1 also allows the last lens to be positioned immediately in front of the CMOS sensor, contributing to a reduction in chromatic aberration. On the Cyber-shot R1 this distance has been reduced to an astonishing 2.1mm.
The flexibility of the lens design also means there is no need to change lenses to capture the shot you want. This allows the Cyber-shot R1 to be exceptionally fast in use - faster than most other high-end cameras. For example, the Cyber-shot R1 is capable of taking a macro of a butterfly, zooming in on an object in the distance, and then taking a wide-angle landscape shot, all within a few seconds without the need for changing lenses.
The fixed-lens design of the Cyber-shot R1 provides enhanced durability, reducing the risk of dust or foreign bodies scratching or damaging the sensor as a result of multiple lens changes. The lens block designed specifically for the Cyber-shot R1 is made up of 10 groups of 12 elements, four of which are aspherical.
Sony and Carl Zeiss in partnership
Working with Carl Zeiss, Sony has developed a highly qualified high performance lens to realise a higher contrast and resolution even at the edge of images. The lens of the Cyber-shot R1 has been designed through simulating MTF (Modulation Transfer Function) and chromatic aberration. Additionally, the Carl Zeiss T* multi layer coating, already appreciated by professional photographers the world over, ensures higher quality images with vastly reduced ghosting and flare.
Real Imaging Processor for ultimate performance
The Real Imaging Processor has been further enhanced for the Cyber-shot R1 to provide more detailed, purer and vivid colours. The white balance accuracy has also been improved to differentiate between indoor and outdoor shooting, producing more precise colour. The microprocessor has been further customised for the large CMOS image sensor, resulting in a much shorter response time and greatly reduced image noise. With it's ultra-low power consumption, STAMINA power efficiency, and the use of an intelligent InfoLITHIUM battery, the Cyber-shot R1 can carry on shooting for an amazing 500* shots, without the need for recharging the battery.
Free-Angle LCD to shoot like no other
The inclusion of a large 2.0-inch "Over Head" free-angle LCD screen, facilitates a revolutionary approach to shooting with the Cyber-shot R1, unique in its class. Combined with the ultra-bright (luminance 600 Cd/m2) screen, the swivel action allows you to shoot from horizontal or vertical levels, high or low angles or waist height, to maximise creativity.
High sensitivity for reduced blur
Picture blur is significantly reduced because of the high sensitivity capability of the Cyber-shot R1. Traditionally this would lead to an increase in noise, however with the use of the large size CMOS sensor, and the newly developed Clear RAW NR feature, the signal to noise ratio is improved. The Clear RAW NR original algorithm system reduces colour and luminance noise, enabling shooting with significantly higher sensitivity than current Cyber-shot models, using a selectable ISO sensitivity mode (up to ISO 3200). This ensures images with less noise and finer detail. This especially benefits customers when they shoot in low-light conditions, or when shooting moving objects.
A.G.C.S for rich colours and optimal contrast
The Cyber-shot R1 features an Advanced Gradation Control System to obtain optimal image contrast. The capability to evaluate distribution of the brightness on-screen and apply an appropriate Gamma curve (luminance distribution) means that images can be altered in real-time for a clearly defined image. For example shooting in difficult conditions such as a poorly lit subject and brightly lit background is not a problem for Cyber-shot R1 - using the A.G.C.S. feature, brightness can be balanced out, ensuring an evenly lit image.
Advanced display for live preview
You can view a 'live' preview of the shot you are framing, so you can clearly see what the end result will look like before you take the shot. The improved display layout on the Cyber-shot R1 shows the basic camera settings such as shutter speed, F number, and EV diagram in the bottom area of both LCD and EVF without overlapping the subject in the image area. In addition to the basic settings, the following functions provide further assistance when shooting:
The display shows a live histogram when shooting, ideal for adjustment of brightness. Additionally, in playback a histogram also appears for each of the three separate RGB colours, this is ideal for checking the detailed balance of each colour and then making necessary adjustments.
This uses black and white stripes (Zebra Pattern) to indicate areas where the brightness exceeds a certain level resulting in burnt-out highlights. The exposure can then be adjusted accordingly.
This helps when photographing a horizontal or vertical subject. It can also be used artistically and creatively when composing a picture to a particular pattern.
The focusing point appears in an enlarged image when the manual focus ring is used, for more accurate focusing.
Choose your JPEG colour mode
Users now have a choice of three colour modes on the Cyber-shot R1:
Standard (sRGB): a Sony-developed colour arithmetic process used on all Cyber-shot cameras, giving natural and true colour reproduction.
Vivid (sRGB): lowers brightness and emphasises primary colour depth for impressive results with Reds, Greens and Blues, rather like a saturated slide film. Scenes like a deep blue sky, an intense red flower, and spectacular green scenery will be expressed with lively vivid colour.
Adobe RGB: increased gamut (colour range) for a larger colour space and better reproduction, to meet professional and high quality picture environments such as desktop publishing with Adobe Photoshop.
Image Data Converter SR for picture adjustment flexibility
Of course, RAW mode is also available for the most demanding users, allowing the highest picture quality with no compression, and preserving the original RGB data and camera settings. The supplied RAW development software (Image Data Converter SR) is particularly versatile compared to competitors' software. It incorporates fast processing, display and development, with improved operability such as dual view and navigator windows. The software allows adjustment of the white balance and exposure, colour modes such as Vivid or Standard, and provides high compatibility with Adobe Photoshop.
Share
The Cyber-shot R1 also features PictBridge, the standard for printing directly to photo printers, such as the Sony DPP-FP50. Pictures can be printed conveniently with the USB Direct Print option.
The next stage
The Cyber-shot R1 has a range of dedicated optional accessories to further extend the shooting possibilities, from wide and tele lenses, to ND and PL filters, from cases and bags to versatile external flash units.
Your language
Sony has increased the choice of local menu languages to a staggering 15 on the Cyber-shot R1, another great solution to ensure easier operation. Menu languages now include: Czech, Danish, Dutch, English, Finnish, French, German, Hungarian, Italian, Norwegian, Polish, Portuguese, Russian, Spanish, and Swedish.
The Cyber-shot R1 will be available throughout Europe from mid- November 2005.
NOTES FOR EDITORS
Please find below further details about products and services highlighted in the Press Release:
Shooting style revolution
The Cyber-shot has been designed from the ground up with picture quality and operability number one priorities. The Free Angle LCD screen allows shooting from angles not possible with digital SLRs. The shutter release has been positioned in an ergonomic location, and creative flexibility controls such as ISO, WB, Flash Mode, AF Mode and one-push AF are all positioned within easy reach of the left thumb area. Primary shooting controls (shoot, playback, magnify, move/check focus, and delete) have all been placed around the right thumb area.
Fast response
The Real Imaging Processor at the heart of the Cyber-shot R1 has been enhanced further so in Preview mode the camera is ready to shoot a remarkable 0.68 seconds after it is switched on. The shutter time lag is only 0.29 seconds, shutter release lag is only 0.0075 seconds and the camera can take up to three photographs in quick succession at a speed of 3 fps in high speed burst mode.
Storage and Connectivity
Compact memory storage is provided by optional Memory Stick and Memory Stick PRO, alternatively the Compact Flash (Type I/II) slot allows storage on Compact Flash or Micro Drive media. Connectivity options include Hi-Speed USB 2.0 and an enhanced version of the PictBridge interface provides a way for the Cyber-shot R1 to connect directly to a compatible printer without the need for a PC.
Time (Bulb) Exposure
In addition to the manual shutter speed ranging from a flexible 30 seconds to 1/2000 second, the Cyber-shot R1 has a Time Exposure function which enables the user to control exposure time depending on their requirements - up to 3 minutes.
Rear Synchro
With Rear Synchro mode, the flash fires just before the shutter closes so that any light traces grow towards the back of a moving subject. This function can be combined with the regular Slow Synchro mode (flash produces a light trace in the direction of movement) for original and creative flash photography.
Accurate Manual Focusing with one-push AF
When focusing with Manual Focus mode, the one-push AF (PUSH AUTO) button on the left side of the camera body can help focus the subject more easily and quickly. The focusing area can be adjusted using the focus frame and multi-selector that appears on the LCD screen, finally the focus can then be manually adjusted.
Improved Electronic Viewfinder
The new EVF on the Cyber-shot R1 has an improved optical system with three lenses, for a lower distortion and aberration and better eye position. The image resolution is also higher than on previous models. The camera seamlessly switches between the EVF and the LCD using an eye sensor. Both can show zebra stripes as well as the newly designed information display.
Monitoring Mode
The Cyber-shot R1 offers two different monitoring modes, Framing and Preview. The Framing Mode reduces flicker under fluorescent light, and the screen is brightened to view the subject more easily, so is ideal for use indoors or in low light conditions. Preview Mode, on the other hand, reflects the true camera settings such as the aperture and shutter speed so that you can confirm the real depth of field before shooting.
Linear Focus
Sony has developed an ultra-efficient Linear Focus system for the Cyber-shot R1. This direct drive system uses a motor without gears, resulting a super-fast response and extremely accurate focus.
Silent Operation
As the Cyber-shot R1 does not have a mirror and there is no shutter sound, you can discretely use the camera in situations where you would hesitate with a traditional camera, such as at a concert, in a museum, or on safari.
Advanced Accessory Shoe
This shoe supports wireless connections, pre-flash and automatic adjustment for the best exposure. It can also be used with conventional flash units for analogue cameras if they have compatible connections. Of course, the Cyber-shot R1 also incorporates a strong pop-up flash unit for convenient low-light shooting on the go.
Supplied accessories
Sony also includes a variety of accessories with the Cyber-shot R1. These include InfoLITHIUM Battery, AC adaptor, video cable, USB Cable, shoulder belt, flower hood and Software.
Optional accessories
A choice of optional accessories are available including: Tele conversion lens (VCL-DEH17R), Wide conversion lens (VCL-DEH08R), ND filter (VF-67ND), PL filter (VF-67CP), Soft Jacket Case (LCJ-RA) and Hard Case (LCH-RA).
Key specifications:
Cyber-shot R1
Large Sized 10.3 effective Megapixel CMOS Sensor
24-120mm (35mm) Carl Zeiss Vario-Sonnar T* Lens
High MTF Performance
Free Angle 2.0" LCD
3 Colour Reproduction Modes (Standard/Vivid/AdobeRGB)
Advanced Gradation Control System
High Speed Burst 3.0fps
Dual Slot for Memory Stick and Compact Flash / Micro Drive (typeI/II)
Zebra Display
One Push AF
Quick Operation (Preview mode - Start-up 0.68 sec, Shutter Time Lag 0.29 sec, Shutter Release Lag 0.0075 sec)
STAMINA Battery Life (approx 500* shots)
RGB Histogram
Real Time Preview
Conversion Lens Compatible (Optional)
Advanced Accy Shoe
Real Imaging Processor
Aperture/Shutter Priority and Manual Exposure Mode
RAW Data Recording
AF Illuminator
USB 2.0 High Speed Transfer
Scene Selection Mode
PictBridge Compatible
15 Menu Languages (English, French, German, Italian, Spanish, Portuguese, Dutch, Russian, Swedish, Norwegian, Danish, Finnish, Polish, Hungarian, Czech)
The measurement method is based on the CIPA standard recording on Memory Stick (CIPA: Camera & Imaging Products Association).
Subject to errors and technical changes.
For further information, please contact:
Jean-Baptiste Duprieu, Sony Europe
Tel: 0044 1932 817 349/ email: jean-baptiste.duprieu@eu.sony.com
Maria Heavey, Sony Europe
Tel: 0044 1932 817 383 / email: maria.heavey@eu.sony.com
In addition, for any queries about Sony in your respective country, please contact your local Sony PR office.
About Sony:
Sony manufactures audio, video, communications and information technology products for the global consumer and professional markets. With its music, pictures, game and online businesses, Sony is uniquely positioned to be one of the World's Leading Consumer Brands. Sony recorded consolidated annual sales of EUR 53.43 billion (yen 7,160 billion) for the fiscal year ended March 31, 2005 and it employs approximately 151,400 people worldwide.
In Europe, Sony recorded consolidated annual sales of EUR 12.03 billion (yen 1,613 billion) for the fiscal year ended March 31, 2005, based on an average market exchange rate for the same period of yen 134 to the EUR. Sony Europe, headquartered at the Sony Center am Potsdamer Platz in Berlin, is responsible for the company's European electronics business and registered consolidated sales of EUR 8.87 billion for the fiscal year ended March 31, 2005.
For more information on Sony Europe, please visit http://www.sony-europe.com and http://www.sony-europe.com/presscenter
# # #