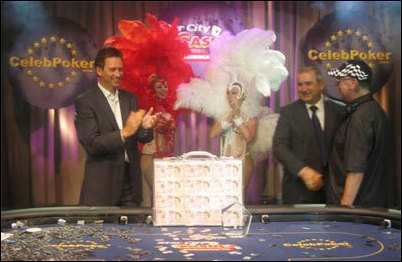 (PRWEB) September 11, 2005
They came from across the globe, all chasing the big pot. Online qualifiers a-plenty, from as far as the US, Sweden and France. Some had bought in for as little as $4.00. Others had played the network of satellites across the network of Stanley casinos in England and Scotland.
Showgirls paraded their feathers in the Vegas-style atmosphere. The red carpet was rolled out to receive the galaxy of stars. The poker-loving public joined the celebrities, everyone wanted to be a winner but dreams are made and broken in star city.
There were also a host of top pro players including:
Simon "Aces" Trumper
Surrinder Surinam
Willie Tann
Bambos Charambolous
Julian Thew
In addition there was a host of top celebrity players from Hollywood to the green baize of snooker!
Lou "Diamond" Phillips, star of La Bamba and Young Guns
Ryder Cup winning captain, Sam Torrance
7 time world snooker champion Stephen Hendry
Peoples champion, Jimmy White
Former Eastender Michael Greco, fresh from his second place finish in Portugal
World snooker champion Mark Williams
Former England cricketer Ed Giddins
Scott Robinson, part of the biggest boyband in the World 5IVE, currently starring in Boogie Nights2
Day 1
190 players sat down. Play was fierce and combative. Aggression showed, nerves were fraught.
Bad beats rippled around the casino, did that really just happen to me! Pocket kings being taken out by a royal flush.
Jimmy White, Simon Trumper and Surrinder were among the early fallers.
Next out was Scott Robinson- why did he slow play the pocket rockets?
No big place finish for Bambos. Michael Greco "I just didn't get the cards" followed soon after. The numbers were crashing the tension was growing. Next out was "The Real Deal" Mark Williams. Then in a flash his great friend Stephen Hendry was gone. Were any of the celebrities going to make day 2?
By 1am we were down to 60 players. 3 celebrities remained. Tournament Director, Thomas Kremzer called final hand of day 1 at 1.55am, Lou "Diamond" Phillips has pocket 8's and calls all-in, trying to double up for day 2. He gets called with pocket 10's and bang – he's gone, back across the Pond.
Day 2
Only 2 celebrities remained, Ed Giddins and Sam Torrance, part of the 45 players remaining for day 2.
Play re-commenced at 4pm, by 4.30 we are down to 33 players and Sam Torrance has double-bogeyed and missed the cut!
Ed Giddins is the only Celebpoker.com celebrity player left, very much short stacked but playing a tight game with patience his only friend.
Miraculously it's 9.30pm and we're down to the final 9.
Dan Brown 475,000
Martin Green 422,000
Julian Thew 267,000
George Geary 187,000
Alastair Findlay 158,000
Aaron Routt 126,000
Sean Sharam 82,000
Ed Giddins 67,500
Barry Neville 40,000
Who would make the final 6, the main televised event and win the guaranteed £100,000 first prize? Would it be satellite qualifier Dan Brown, online qualifier Martin Green from Brighton or former cricketer Ed Giddins from Eastbourne?
The final 6
Martin Green 753400
Daniel Brown 453800
Julian Thew 266000
George Geary 161810
Alistair Findlay 159800
Ed Giddins 34700
Not unsurprisingly Ed Giddins was the first to leave the televised table. Ed had A8 offsuit and called all-in. Martin Green called, then Alistair Findlay came over the top with an all-in raise. Martin folded. Alistair had pocket cowboys, which held up, Ed was gone.
Next out and 5th place finisher was Daniel Brown who lost to Martin Green.
Next big action was between Julian Thew who pushed all-in with Queen 5. Martin Green called with Ace King again this held up.
Julian Thew finished in 4th and collected £7,200.
The action was now coming thick and fast. Alistair Findlay pushing all-in with Ace 6. Martin Green called with Ace 9. Nothing came on the board and Alistair was 3rd place finisher and collected £14,400.
Heads up action and Martin Green is massive chip leader with 1,700,000 chips against George Geary's 161,000.
There followed prolonged sparring and chips moved across the board at a fantastic pace. George doubled up twice with 2 fantastic river cards. Martin scratched his head, what did he have to do to beat this guy?
An hour of heads-up and the chips are level – it really is wide open. The tension is electric.
Two hours later, heads-up action has never been so tense, and Martin loses out with his straight to George's flush draw on the river. It doesn't get any better than this.
Martin is now down to 60,000 chips and George is holding the huge stack.
Martin is forced to go all-in time after time. Eventually George wins with 2 pairs to Martin's pair. What a win. If ever there was an example of how to play heads up, George has shown the way.
Martin wins £28,800 and George the massive first prize of £100,000.
Watch http://www.celebpoker.com for further details of when this fantastic play will be aired.
# # #