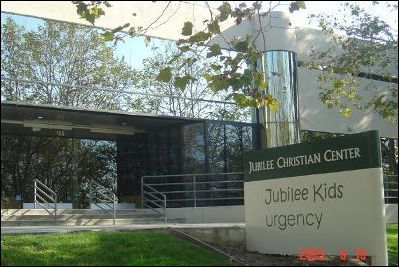 We are very pleased to present a state-of-the-art facility to these kids of the Bay Area, giving them the best, top-notch equipment
San Jose, CA (PRWEB) September 12, 2005
The grand opening of one of the largest and most innovative Christian youth ministry centers in the nation is set for 7 p.m., Sept. 14, 2005, at Jubilee Christian Center (JCC) in San Jose, Calif.
This 70,000 square foot state-of-the art facility boasts top-of-the-line equipment, including 30 Xbox and PS2 gaming stations, six pool tables, two 3-on-3 indoor basketball courts, an 11-station eMac lab, iPod listening stations, a full service café, an 80-seat performing arts arena, and a 650-seat auditorium for youth ages 13 to 20. Children ages 4 to 12 will be greeted by a 12-ft tree, home to a mechanical talking Macaw bird, life-size 3-D wall mounted animals, indoor bounce houses, an 18-ft indoor slide, as well as eye-catching one-of-a-kind murals.
"We are very pleased to present a state-of-the-art facility to these kids of the Bay Area, giving them the best, top-notch equipment," says Pastor Dick Bernal, Senior Pastor and Founder of JCC.
Pastor Bernal's vision of this Christian youth ministry is to reach children and youth in the local community and inner cities, help troubled teens, counteract gang violence and provide a cool place that kids will love.
NFL celebrities, including NFL Hall of Fame inductee Jim Brown and San Francisco 49er pro-bowler, Dana Stubblefield, are helping to open the doors at the grand opening Sept. 14. Entertainers, such as rapper MC Hammer and hip hop star E-40, are showing their support by attending the event as well.
Brown, founder of the Amer-I-Can Foundation, says, "We need an exceptional alternative for our troubled teens, instead of the streets and gangs. This youth and children's facility makes a statement to today's youth that they do count!"
Other specially invited guests include actress Rene Russo, legendary entertainer Smokey Robinson and City of San Jose public officials Mayor Ron Gonzales, Vice-Mayor Cindy Chavez, and Councilman Chuck Reed.
Official children's services in the newly renovated building are scheduled for Sunday, Sept. 18, 2005 at 9 a.m. and 11 a.m. Youth services begin on Wednesday, Sept. 21, 2005 at 7 p.m. Children between the ages of 4 to 12 and youth between the ages of 13 to 20 are welcome to come.
About Jubilee Christian Center:
In 1980, JCC was founded by Senior Pastors Dick and Carla Bernal. JCC has become one of the largest leading non-denominational churches in Silicon Valley, featuring a new Christian youth ministry center. It is a family church ministering to the needs of all ages, including troubled teens. It is a teaching center, bringing fresh and relevant messages to its diverse congregation. JCC is also a world outreach center, impacting thousands of lives in India, Mexico and the Philippines. With well over 14,000 members, this church continues to welcome people of all ethnicities and all backgrounds.
Media Contact:
Charlene Pons
Jubilee Christian Center
408-942-4535
# # #