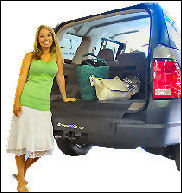 Where everything new makes its debut
Los Angeles, Ca (PRWEB) September 14, 2005
Here we grow again. In accordance with our mission to be the premier aftermarket parts source of innovative and unique products we have added nine additional sales agencies in the Unites States and Canada. Customers have recognized the potential uses for the BumperBib allowing for market expansion outside the automotive realm.
It's here, BumperBib's chic counterpart; BumperBib XLE. Along with superior protection BumperBib offers, XLE adds the touch of class worthy of the luxury cars it is designed to protect. Made of durable vinyl, the XLE is complimented with a soft liner to pamper your vehicle in addition to a precisely embroidered logo.
But what's a new product without a new look? BumperBib has undergone a complete packaging redesign, creating a visually aesthetic box sure to capture consumer attention. Our new, eye catching, boxes allow for merchandising flexibility, such as countertop displays in our recently devised 6 pc inner pack. Stores that currently carry our products, such as Canadian Tire, have had enjoyed success cross merchandising the BumperBib. BumperBib is currently in eight stores in the Quebec province and is being cross merchandised in both the automotive and sporting goods departments.
Along with the new packaging we have also undergone a major website redesign. Please take a moment to visit http://www.bumperbib.com, where you can order products, view a map of sales agencies, request to be a sales agent or submit general questions. We have also initiated the dealer ordering system that will make it easier for many small, independent retailers to utilize our wholesale pricing and pay for product via credit card. There are low minimums and no start-up fees associated with our dealer programs. We provide POP merchandising free of charge, and team up with our retailers to meet their needs, and ensure The BumperBib is one of the top selling products in their inventory.
To keep up with the demand, BumperBib has recently added additional staff to continue providing the superior customer service we are known for. Part of this addition staff would include a P.R. Agency, to bring extra public recognition.
SEMA 2005 November 1st-4th, "Where everything new makes its debut"
BumperBib, Inc. is pleased to announce its return to SEMA with new products, a larger booth and on site sales staff. SEMA 2005 will be the debut of the much anticipated Kid Console and Road Warrior. These new center consoles promise to be the newest, most innovative center console additions to the aftermarket parts industry. Visit us in booth number 12416 located just inside the public entrance of the Las Vegas Convention Center's North Hall, Restyling & Accessories Section.
BumperBib -- Now That's a Good Idea
# # #