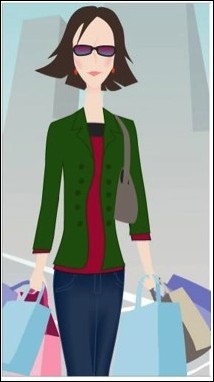 New York, NY (PRWEB) September 15, 2005
Girlawhirl Incorporated announces the launch of their new website/homepage for women updated every weekday with fun articles on topics such as fashion trends , beauty tips , travel tips , food , style , home decorating ideas and more. Girlawhirl™.com was created for women aged 25-45 years old, and is poised to become the best friend to style-conscious, trend-forward women across the globe. Girlawhirl travels the world and reports back. Whether it's an out of the way shop in Paris, or a cool restaurant in Chicago, she shares her secrets. And the innovative tools for registered users allow them to take that information along to the mall, on vacation, or to the grocery store.
Girlawhirl.com is the first comprehensive website designed for women that offers fresh, upbeat editorial with new items every day covering a wide range of topics: beauty finds from around the world, plus women's health and fitness news, the best of current design, fun and functional fashion trends, dining and cultural trends, insider travel tips for shopping, clever gifts, even financial advice and party chat… in short, everything a 21st century savvy woman-on-the-go needs, but may not have the time to find.
What is unique to Girlawhirl.com is that everything can be found on a user-friendly homepage which incorporates useful links (Google, Mapquest, Weather…) and (coming soon), interactive tools, like event, birthday, and gift giving management stored in each user's, first of its kind, (virtual) 'handbag.' And it's all good to go! It's a "handbag" like no other…contents can be sent to her PDA or mobile phone for access while shopping or traveling. Using the list templates, women can keep track of what they need - manage itineraries, organize outfits or even plan a To Pack list for a trip and send it all to their PDA to take with them on the road.
Girlawhirl's primary focus is to provide women with relevant information in just a click or two. When the user boots up first thing in the morning (in whatever time zone or continent she happens to be in), Girlawhirl addresses her concerns and interests—a chance to relax, to fantasize, pick up ideas on what to give a friend's kids, where to grab a quick and inexpensive lunch in London, or find a new skin care product that makes her glow.
Girlawhirl loves gift giving and travels the world, finding treasures to bestow upon her family and friends. She's the favorite shopping buddy who loves to share, and every week, registered users are eligible for Girlawhirl Giveaways! She is smart and stylish, but not over-the-top, with a clear, easy voice that is authoritative, but accessible, sophisticated, and friendly. Girlawhirl may be sassy, but she is never rude. She's intimate but never intimidating. As far as fashion goes, Girlawhirl is definitely a shopper, planning each seasons 'buys' and 'tries' with all the precision that she applies to projects at work, from magazine tear-outs to scouting expeditions, and finally, financial analysis, it's a process she cant get enough of. She loves eclectic food (and chocolate!) and has made a resolve to try (almost) anything— once. Girlawhirl truly cares about the world, and the well being of her friends (her readers). She is always on the lookout for environmentally friendly items, charities to support, and causes to champion.
Girlawhirl.com's unique homepage design, and the portability of the 'handbag,' which contains the easy-to-use lists and stores favorite items, makes portable technology simple and accessible (finally!) to its users. Girlawhirl is your best new best friend.
Check in with Girlawhirl at http://www.Girlawhirl.com today to see the latest in fashion trends, beauty tips, travel tips, style, home decorating ideas and more. Sign up once and you've got your own Girlawhirl Handbag, and you're always registered for Girlawhirl Giveaways.
Media Contact:
Dana Hill
Divine Public Relations
201.342.1868
# # #