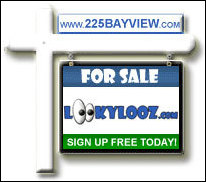 Boost Your Exposure with Internet Technologies
San Clemente, CA (PRWEB) September 16, 2005
By utilizing the power of the Internet, LookyLooz.com is giving Realtors the ability to show-off their individual property listings at a one time fee of $49. This is enabling Realtors to have a virtual Open House 24 hours a day.
As LookyLooz.com has been anxiously awaiting the upcoming 2005 California Association of Realtors Centennial Aniversary Conference in San Diego, CA, we have received some great testimonials from some of our very satisfied users. Please take a moment and read a couple of their comments about our property listing service.
From Mike M. at South Bay Brokers in Manhattan Beach, CA:
"I created a LookyListing site the same day I listed a brand new custom home for $2.6 million. I used the LookyLooz property announcement feature to inform local real estate agents and past clients of my Open House that same day.
I had over 50 agents and dozens of potential clients at my open house and obtained a full price offer within 1 day!"
LookyLooz - YOU'RE HIRED!
From PollyAnna S. at Keller Williams Realty in San Clemente, CA:
"LookyLooz offers the most effective method for marketing my listings to an unlimited audience with calculated results. LookyLooz enables each of my marketing tools to work together in a synergistic fashion, thereby maximizing the combined power of my yard sign, property flyer, the MLS, and all my print media and additional web-based advertising.
In addition to its ease of use and tractability, LookyLooz is the most dollar productive real estate marketing tool I have ever used. It as allowed me to reach a greater audience for my listing clients, it has enabled me to effectively tap into the exploding market of 93% of Buyer's using the Internet for their home searches prior to contacting a Realtor®, and most importantly I am double-ending a majority of my listings solely due to the unlimited marketing capability of LookyLooz.
One listing with LookyLooz in the past three months has yielded me 5 sides of real estate. LookyLooz is the real estate marketing tool of the future that I cannot afford to be without!"
P.S. Please take a look at my newest listing: http://www.1710colinaterrestre.com
Don't forget to come see us at the California Association of Realtors Convention on September 20-22, 2005, where we will be presenting at Tech Tuesday.
Our presentation on "Boost Your Exposure with Internet Technologies" will help Realtors around the country better utilize technology. Also don't forget to stop by and see our product first hand at our booths, 547 and 1036.
Who is LookyLooz.com?
LookyLooz.com is a real-estate marketing tool unlike anything the market has seen before. It provides home -sellers a new avenue of advertising that has never been fully utilized by leveraging the Internet to show the home. LookyLooz.com provides 24- hours -a -day advertisement for a home for sale by using the street address of the home as an Internet domain name (225 Bay View = http://www.225BayView.com).
Compare and Evaluate your home -for -sale exposure using a weekend newspaper advertisement next to a 24/7 Internet advertisement and there is no cost comparison. LookyLooz.com listing provides a full description of the home, pictures, an open house calendar with email request form, and much more in a vibrant, professional, and fully customizable Web site. Users can sign up and try all of the functionalities for free before making any commitment. http://www.LookyLooz.com
# # #