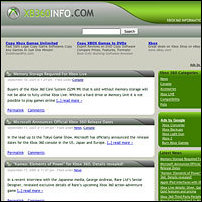 With xb360info.com, we're providing a complete Xbox 360 information resource, releasing a site designed to separate the facts from the rumors and hype surrounding the console. Xb360info.com is committed to providing useful information that consumers can rely on when it comes time to purchase the Xbox 360 console
(PRWEB) September 19, 2005
A new web site, http://www.xb360info.com, cuts through the marketing hype to deliver factual, up-to-minute information on the new Microsoft Xbox 360 video games console scheduled for release in late November. Targeted at parents and mature gamers, xb360info.com offers clear and concise articles designed to help potential Xbox 360 buyers make informed buying decisions.
"There is a lot of marketing hype whenever a video game console is released. Parents and more mature gamers need useful, hype-free information in order to decide which console bundle and accessories represent value for money," commented Dr Markus Weichselbaum, editor-in-chief of xb360info.com.
Xb360info.com was created to counterbalance the hype generated by Microsoft's marketing machine over its next-generation video games console. The information presented on http://www.xb360info.com is free of marketing hype, offering a voice of reason that allows potential buyers of the new Xbox 360 console to find relevant factual information prior to purchasing. The xb360info.com reporting team presents facts and news about the console in a balanced manner, accessible to gamers and non-gamers alike.
"The amazing power of the new Xbox 360 console comes with a steep price tag. Microsoft has struggled to come up with a concept that keeps the new super console in a price range that is affordable to the public," said Weichselbaum. "There is no doubt that the Xbox 360 console itself is great value, but not all peripherals and accessories on offer are really necessary for a first-rate video gaming experience."
All articles on xb360info.com are written and researched by a team of experienced journalists, comprising both long term video gamers as well as mature technology analysts. Visitors to xb360info.com will benefit from their meticulous research and clear presentation of buying options. Every accessory and add-on will be discussed and analyzed in terms of its merits and cost/benefit ratio.
Xb360info.com is produced by Cherry Internet Services, the reporting team behind a range of video game sites that have provided consumer choice and information since 1997, such as http://www.psreporter.com, http://www.xbreporter.com, http://www.gbadviser.com and http://www.all-video-games.com. The launch of the new generation video game consoles, Xbox 360 and Playstation 3, has resulted in the creation of http://www.Ps3focus.com and http://www.hypebox360.com, a parody site inspired by Microsoft's Xbox 360 marketing material.
"With xb360info.com, we're providing a complete Xbox 360 information resource, releasing a site designed to separate the facts from the rumors and hype surrounding the console. Xb360info.com is committed to providing useful information that consumers can rely on when it comes time to purchase the Xbox 360 console," explained Dr Weichselbaum.
Xb360info.com is available in German at http://www.xb360info.de, as Microsoft plans to release the new console in the US, Europe and Japan simultaneously. A Japanese version of the site is currently under construction.
Company Information
Xb360info.com is a service provided by Cherry Internet Services Pty Ltd, a privately held company headquartered in Perth, Western Australia that specializes in web publishing and internet advertising solutions. For more information, please visit http://www.cherryis.com.
Contact
Markus Weichselbaum
Cherry Internet Services Pty Ltd
Ph +61 8 9328 3008
Fx +61 8 9328 3205
# # #