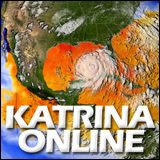 Annandale, VA (PRWEB) September 19, 2005
Virtual situation rooms created by SafetyIssues.com and powered by Google News show a greater need for personal safety guidance during natural disasters.
According to SafetyIssues.com, personal safety has remained a relatively low-priority topic in news coverage of natural disasters, even after Hurricane Katrina. Analysis of Hurricane Ophelia coverage state-by-state along the East Coast shows that personal safety was still far outranked by property damage and tracking the hurricane's path.
Also, while organizations and innovators around the world try to better coordinate public safety resources during natural disasters, foreign media commentary about Hurricane Katrina has focused primarily on foreign policy and other social concerns such as poverty, racial tension and post-9/11 angst. "Katrina Politics" has dominated U.S. national news as well.
SafetyIssues.com is calling for more frequent just-in-time delivery of practical safety information, customized for every possible audience. The company also invites organizations with safety solutions to step out in front of those who have politicized Hurricane Katrina, so that the public can more effectively participate in the recovery process and create a culture of safety.
Two Internet "situation rooms" were created by SafetyIssues.com to monitor the flow of news coverage during the hurricane season: the Hurricane Katrina News Directory (http://www.safetyissues.org/katrina) and the Hurricane Ophelia News Directory (http://www.safetyissues.org/ophelia). The two news portals use Google News syndication technology to cluster stories according to topics such as national and world perspectives, safety & health issues, business, technology, the entertainment and sports worlds, and each of the affected Gulf Coast and East Coast states. Latest institutional press releases are also included.
Out of 5,300 Ophelia stories processed, only 228 -- or 4.3% -- contained the word "safety."
Just 12 stories -- or 0.02% of all Hurricane Ophelia stories -- offered safety tips.
For example, the simple safety procedure known as "ICE" is not to be found in a single Hurricane Ophelia story. ICE stands for "In Case of Emergency" and is promoted as a universal label for emergency contact numbers stored on a person's cell phone, thus helping emergency personnel.
By comparison, 25% of the stories use a variation of the word "damage," and 24% mention the word "path." The majority of stories have been short weather forecasts and warnings. Few tell readers what to do.
Personal safety also ranked low in Hurricane Katrina reporting when such an emphasis would have made the greatest difference.
As of September 3, 2005, SafetyIssues.com had sorted through 163,000 articles online about Hurricane Katrina.
Fewer than 6% of these mentioned the word "safety." Only 16 articles offered safety tips. No stories made note of ICE, a topic that was brought up only days later in just 8 stories nationwide.
By comparison, as of September 3, 2005, more than one-third of all online Hurricane Katrina stories mentioned oil or gas.
Foreign Media Reaction
The company's findings also confirm a report from the U.S. Department of State Office of Media Reaction providing a round-up of editorials and op-ed commentary on Hurricane Katrina from major news sources in 27 countries.
The Hurricane Katrina News Directory tracks media coverage in 19 of those countries, of which Britain, Canada, India, Italy and China have published the most number of articles about Hurricane Katrina, followed by Germany, France, Malaysia, Russia and Israel.
According to the Media Reaction report:
Critics attribute the disaster's scope to the Bush Administration's not learning from 9/11.
Observers see hurricane coverage as revealing America's "largely hidden" social problems.
Some writers say their colleagues are using the tragedy to "take a crack at" President Bush.
Scattered editorials convey the impression that the U.S. has refused foreign assistance.
The entire Media Reaction report can be accessed at
http://www.safetyissues.org/katrina/foreignmedia.htm
The following news portals are available to the public:
Hurricane Katrina News Directory
http://www.safetyissues.org/katrina
Hurricane Ophelia News Directory
http://www.safetyissues.org/ophelia
Organizations interested in participating in SafetyIssues.com's media research and development program may contact John Simmons, Chief Technology Officer, directly at 703-992-6689 or at the following email: (johnsimmons @ safetyissues.org)
# # #