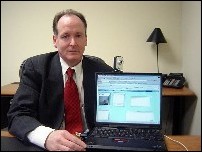 We designed this application so that anybody can become a self-broadcaster. Anybody can use it in a number of ways, either as a single conversation, as a group meeting, coordinated group meeting or as a syndicated broadcast. We find that that flexibility follows not only how people work, but how they want to work.
New York, NY (PRWEB) September 20, 2005
Instantstream's Streamphone product needs no advertisement. It literally markets itself using a combination of viral marketing and good-old word of mouth. When the company first opened the prototype in May of 2004, it had a thousand new users within the hour.
"We had to shut down the servers because the market was growing faster than we could supply the bandwidth," says Michael Daly III, CEO of Instantstream.
Instantstream Multimedia Communications, Inc. was formed in 2004. The company offers its clients a universal web communications service that is accessible from any computer, any web browser and any communication device, from any location in the world. Using the company's primary product, Streamphone, users can hold individuals conversations, proactive team meetings, sales demonstrations and Regulation "FD" Fair Disclosure, Corporate Earnings and Remote Board Meetings, using audio, video and synchronized PowerPoint slides.
The product differs from similar stream technology in that it is powered by the company's trademarked Interactive Multimedia Local Exchange Carrier (IMLEC-TM). This technology allows Streamphone to be delivered to any computing hardware and any cell phone or PDA in the world without an investment in additional hardware. The technology thereby "enables carrier-class services that integrate enterprise class business applications, voice, video and data to offer true interactivity and Web communications across multiple geographies and platforms."
"What we are doing is simply creating a communications platform that allows anybody to communicate with anybody else, wherever they are without any complications," said Daly.
The Streamphone product is currently installed on more than 526 million desktops and PDAs around the world. Instantstream Multimedia Communications hosts this tremendous number of users on its servers farm, which are located in Downtown Manhattan. The company also manufactures an online training product and a video email product, which is used to solicit customers for the Streamphone application.
The primary market for the product is and Regulation "FD" Fair Disclosure quarterly reports for approximately 5,500 publicly traded companies. Its secondary market is any business with a need to make international phone calls. The final market is the consumer market. In China, says Daly, that market is a 150 million people strong. In the United States, there are 70 million people that the company can reach.
"We allow anybody to communicate, whenever and wherever," said Daly. "We designed this application so that anybody can become a self-broadcaster. Anybody can use it in a number of ways, either as a single conversation, as a group meeting, coordinated group meeting or as a syndicated broadcast. We find that that flexibility follows not only how people work, but how they want to work."
Streaming From the Start
Michael Daly formed Instantstream after a more than 8- year history in the streaming media industry. As a veteran of the industry, he brings to bear a wealth of experience in the market and knowledge of what works and what does not. It is this knowledge that makes Daly confident that Instantstream will be a long-term success.
This past February, Daly presented his financing pitch in NYSIA's Venture Capital Elevator pitch contest. He won the contest, but like all of the other participants, he faced some tough questions from the judging panel. Daly remembers one of the judges saying "a lot of people have spent a lot of money of this and they haven't figured it out yet." The judge wanted to what made Daly and Instantstream different. The difference, says Daly, is simple. He was responsible for the financial turnaround of many of these companies, and he has learned greatly from their mistakes.
"I think I am a bit more qualified at this than the average Joe. Innovation doesn't come often to those who are seeking it, innovation comes to those who have other things that they are trying to do, like make companies profitable. They are not looking for innovation, they are just trying to survive," explained Daly. "In doing these turnarounds, I noticed that each of these companies did something similarly wrong. What I did was I kept notes on these things. Over a period of time, eight years of trial and error, I figured out a way of doing it (right). We have now enhanced it to the point where it is a real product."
Now it is a real product in need of real funding. Instantstream's Streamphone product seems to have it all; innovation, ease of use, an established customer base, and several strong and demanding markets. What the product lacks is funding to propel it to the next stage.
The company has been looking for funding for the past six years. When no backers expressed interest in the company's early stages, Daly liquidated some of his personal funds to get the company rolling. Currently they have one angel backer, but still no VC funds.
"What we are doing is we are looking for investors in the United States. It's easier right now to find foreign investors. We are selling deals right now in China, Africa and South America," said Daly. "We may be contemplating moving the company to the West Coast, depending on where we get the investment. It seems that the VCs raise the money here, but they move the money out to the West Coast."
The company is also in investment talks with the British investors. The deal, if agreed upon, would require the company to move to England. Daly would prefer to keep the Instantstream operations here, but he is unsure as to whether US venture capitalists will support this hope.
"What we are having a big issue with is whether the investors believe in the United States after the dotcom boom and bust, whether or not this is a viable business venture. We think it is," said Daly. "We are already beyond the seed capital. We are in operations. We have taken about 80 percent of the risk for a VC out of this thing. We have a well-groomed team that spent a year perfecting some of the issues. We have got something hot. We have customers and we are in operations already. We are looking to get an investment round to make this something that 50 to 60 million people can use on a daily basis."
Down the Line
Once a VC investment is made, Daly is confident that he will be able to realize some of his dreams for Instantstream. The first in the list is the rollout of 2.0, the second, more customer friendly version of Streamphone. Version 2.0 ties-in instant messaging, video telephones and voice-over IP to the existing model. It also allows the company to issue a user a telephone number anywhere in the world. But again, it all comes back to financing.
"We already have it almost done, but I will not roll it out without funding. If it comes down to it I will sell it to someone else and go do the next one that we want to do," said Daly.
The company is in a unique position. It's not looking for any new customers. Rather, its primary focus is to find funding and improve upon the already popular product, in the hopes of attracting even more customers further down the line.
An improved product with funding is just one of the many items on Michael Daly's wish list for Instantstream.
"We want to make a good product. And with customers that we do have, we want to find out what they are interested in," explained Daly. "We are a small company and we want to develop the application into 2.0, provide instant messaging, telephone collaboration and have it so that you are not limited to a hardware platform that the telephone company has selected for you. We want to raise money and lower the price so that we can reach 100 million people. We are looking for more partners. We want to rollout to 250,000 locations in China. We want to rollout to 15 to 20 locations in Africa. Moving down into the future, we are hoping to become a telephone company or service provider."
# # #