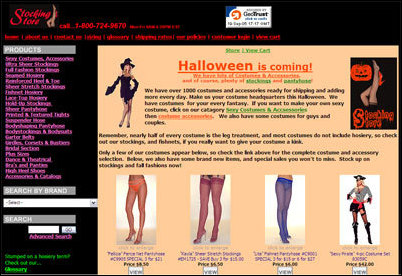 Sales in the British brands of hosiery have skyrocketed in this otherwise sleepy economy
Rochester, NY (PRWEB) September 21, 2005
StockingStore.com (http://www.StockingStore.com) has added to its fantastic line of British import hosiery and stockings by making Aristoc products available in the United States. This line, including vintage stockings and hi-gloss pantyhose, is expected to be extremely popular with online shoppers.
Aristoc is England's oldest and most-renowned hosiery maker. Aristoc will join British brands Pretty Polly and Jonathan Ashton among StockingStore.com's exclusive imports, which have been among the company's best selling lines for several years.
"Sales in the British brands of hosiery have skyrocketed in this otherwise sleepy economy," said William Bocci, owner of StockingStore.com. "European hosiery sales here in the United States are so strong, we expect our next expansion to include Italian hosiery makers."
The glamorous styles of the 1950s and 1960s are back, and vintage stockings are surging in popularity. These retro stockings include garterbelt stockings with satin tops, intriguing back-seamed styles, and full fashioned stockings. The smooth glossy feel of 100% nylon stockings still made in the small towns of France and England attracts many women to vintage styles. Also popular are Aristoc's luxury Nylon/Lycra stockings that are long-lasting, comfortable, and suitable for everyday or special occasion wear. This fantastic material mimics the 1960s style, real 100% Nylon but is even easier to wear and achieve a proper fit.
Other items available at StockingStore.com include thigh highs, suspenders, garters, French stockings and Italian and domestic fishnet stockings. The site also features many colors such as black, blue, pink, tan, green, and purple stockings.
StockingStore.com seeks out fine boutique manufacturers around the world to bring customers the most comprehensive collection of hosiery and accessories available. With the addition of the Aristoc line, online shoppers in the United States have even more choices for lingerie and stockings. The company's hosiery and stockings allow women to accessorize their clothing in a unique and fun way.
About StockingStore.com:
StockingStore.com is based in Rochester, New York. The business traces its roots to a lingerie boutique store started more than 15 years ago. Now concentrated in its mail order and Internet businesses, StockingStore.com sells world-famous brands of domestic and import hosiery as well as its own company labels including VB and RHT. In addition to stockings, the company carries hosiery accessories including the largest collection of garter belts in the world.
###