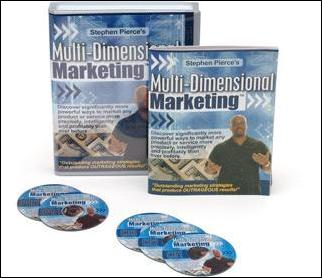 because entrepreneurs can infuse these lessons into their marketing today for an immediate return on investment.
Ann Arbor, MI (PRWEB) September 21, 2005
Impulsive Profits, a leading Internet marketing company, announces the release of Multi-Dimensional Marketing -- a new marketing system that contains a complete action plan that entrepreneurs can use to continually improve their business and dramatically boost their bottom line.
"It doesn't matter how much money entrepreneurs are making today. They need to face this fact: they are underperforming in their business," said system creator Stephen Pierce. "Multi-Dimensional Marketing provides these entrepreneurs with the tools and advice they need to jumpstart their business and get it performing optimally."
Jim Edwards, a leading Internet Marketer said "This presentation changed my life...and that's no exaggeration! Multi-Dimensional Marketing woke me up to no fewer than 4 profit creators in my business. I'm literally shaking with excitement to go home and start making changes."
Those who buy the program will learn: how to accelerate a prospect's decision speed; how to avoid the one stupid mistake most entrepreneurs make over and over again; how one small change in thinking can amplify a prospect pool like ripples in a pond; how to avoid the common problem of launching a product and going immediately to the marketplace; exactly how to leverage "Tactical Targeting" in 4 simple steps; how to accumulate more sales by putting pressure on prospects using social proof; why a rewards program will cause competitors to drop off the face of the earth; the raw truth about how to accelerate affiliate programs; the only place one should consider placing banner ads to seriously micro-niche a list; how to use the "Bonus Elimination Power Play" to squash competition and accelerate sales; and how to ramp up ideas faster and come up with revolutionary ways to reach a market; plus, much more.
"Multi-Dimensional Marketing™ is not a program of rehashed, repackaged ideas and unproven theories," Pierce said. "It's loaded with work models, case studies and actual strategies business owners can adapt to their marketing immediately."
"Stephen is always giving so much value and so many secrets -- sometimes I want to scream, 'Stop! Stop! You're giving away too much!' Stephen gives you a full eye-opening, birds-eye view of where your internet business should be going… or else you're toast!" says Yanik Silver.
The complete Multi-Dimensional Marketing system includes: audio, visual and tactile lessons so customers can absorb the lessons no matter what their personal learning style. The program comes with 4 solid DVD hours and an invaluable workbook.
"I honestly feel that in some ways entrepreneurs who complete the Multi-Dimensional Marketing™ program are getting a better, more useful education than many people who earn a college degree," Pierce said, "because entrepreneurs can infuse these lessons into their marketing today for an immediate return on investment."
The complete Multi-Dimensional Marketing system is now available at http://www.multi-dimensional-marketing.com. For more information on the system, please contact Stephen Pierce at 1-734-741-8392.
# # #