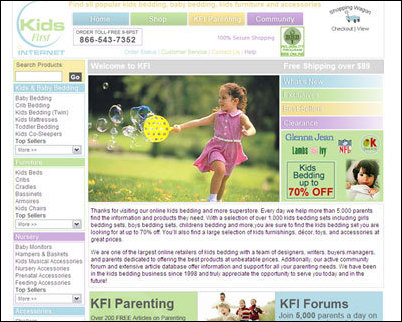 We are not a conventional e-commerce site peddling products like a big chain
West Hollywood, CA (PRWEB) September 26, 2005
By blending an active parenting community, useful articles of information, and an online storefront with exceptional customer service, http://www.KidsFirstInternet.org has created a unique new concept in children's e-commerce.
The company goes above and beyond the typical product offerings of other children's online stores. In addition to finding the best kids' toys and the newest in baby strollers, parents will see innovative products such as their own private label line of organic crib mattresses under the Kids First Internet brand.
"We are not a conventional e-commerce site peddling products like a big chain," says owner Evan Strauss. "We are filling a void in the market by capturing more of the inner experience. Parents are always looking for stylish and essential children's clothing, the most reliable kids' furniture, and baby and kid's bedding and accessories in an informative and engaging environment. Online companies have the unique ability to change and be nimble, adapting to the market. I want to take those benefits to the next level."
KidsFirstInternet.org is host to an active online community of parents. The site has seen a tremendous response from moms and dads who want to be a part of the Kids First Internet Club. Club members enjoy discounts and priority access to new products and are eligible to manage and moderate their own topics on the site's message board forum. This has created an increasingly dynamic community of parents who visit the site daily.
KidsFirstInternet.org features a group of boutiques that stand apart from others in the industry. A "Dad's World" boutique caters to men, offering items they might remember from their own youth. "The majority of our visitors are informed women who are expecting children or have young children," says Strauss. "But we don't want to leave dads out of the buying decision."
KidsFirstInternet.org is a portal for all kids' needs. "Kids First Internet is truly independent, aiming only to provide the best possible products, information and community for our customers and their families." Enjoy new features, a convenient design and beautiful, quality furniture, bedding, toys and accessories. Visit KidsFirstInternet.org today!
About Kids First Internet:
Kids First Internet is based in West Hollywood, California. The business offers thousands of products from nearly 70 manufacturers, providing content and support for all parenting needs. Kids First, LLC, was formed in 2005 and acquired the assets of Vitafilters, LLC, based in Salt Lake City, Utah, which included Kids First Internet.
###