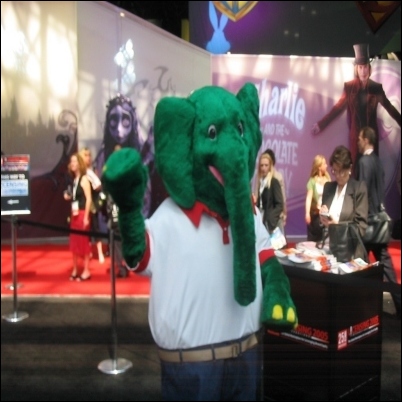 Sacramento, CA (PRWEB) September 26, 2005
Computer Recycling for Education announced today a partnership and licensing product campaign to promote their theme-character, Ewaste Eddie, at the Solid Waste Association of North America's (SWANA) Wastecon 2005 to be held September 27-29, 2005 at the Austin Convention Center in Austin.
The campaign features Ewaste Eddie's proclamation: "Remember to Ecycle-it."® Ewaste Eddie was created to partner with and help municipalities, local jurisdictions, waste haulers, e-waste recyclers, business, government, nonprofits and education to increase computer recycling and ewaste recycling through public awareness.
Solid waste professionals, landfill operators, waste haulers, recyclers, nonprofit recyclers, processors/brokers, environmental groups, colleges, and government agencies are encouraged to look for Ewaste Eddie at Booth #292. Ewaste Eddie partnerships are available through trademark licensing for bill inserts, redemption coupons, posters, banners, fliers, comic books, curriculum, environmental education, educational software, consumer education campaigns, plush dolls, toys, board games, cartoons, apparel, public service announcements, theme parks, and much more. Ewaste Eddie is also available in costume through rental agreements for ewaste collection event, classroom appearances, assemblies, and community service special events nationwide.
"Our goal is for Ewaste Eddie, with his 'Remember to Ecycle-it'® proclamation, to become universally recognized as the worldwide icon for computer recycling and e-waste prevention. We are actively seeking partners who are looking for an e-waste icon for there education and outreach programs. Our goal is to promote Ewaste Eddie as the international ambassador for educating the public on e-waste, computer recycling, electronics waste prevention and electronics reuse, through social marketing," said President Al Chaney a retired solid waste specialist formally with the California Environmental Protection Agency (CalEPA).
Computer Recycling For Education will also have a drawing for a copy of their book titled "Computer Recycling For Education" (ISBN: 0-9658664-0-8) at the Wastecon 2005. This is the only book written on the Best Practices for starting a computer recycling/refurbishing program or business and is distributed by Barnes & Noble.
For information about United States licensing, International licensing, partnerships, rental of Ewaste Eddie and consulting services, please contact:
Al Chaney, MBA
President/CEO
Waste Management Specialist, CalEPA, Ret.
916-248-2999
# # #