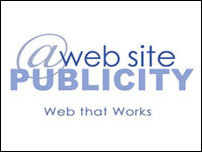 Peterborough, NH (PRWEB) September 27, 2005
Search engine marketing company @Web Site Publicity announced today the signing of a new client, EF Educational Tours, the industry leader in educational tours and experiential learning. The search firm will assist EF Educational Tours to introduce and reinforce their brand online through a strategic Pay-for-Placement campaign at the major search engines. By achieving top rankings in the search engines, EF Educational Tours' travel and program information will be readily accessible to teachers interested in providing educational travel experience for their students in the United States and around the world.
Earlier this year, EF Educational Tours became the first international travel organization to be accredited by The Commission on International and Trans-Regional Accreditation (CITA) and its six regional accrediting bodies. This means that all of EF's international and domestic educational tours have been recognized for their quality and educational value, meeting the same rigorous standards as the best schools. With this certification, participating teachers can now earn professional development credits when they lead an EF tour and complete coursework. Also, students can earn high school credit by experiencing a tour and completing coursework associated with it.
@Web Site Publicity is a leading search engine marketing company offering comprehensive, integrated services in the area of search engine optimization, paid search advertising and web usability analysis. Founded in 1998, it serves client companies throughout the United States. Based in Peterborough, NH, the company also works directly with interactive agencies, public relations agencies, and web development firms to increase their clients' success online. Company founder and C.E.O. Susan O'Neil is the co-author of Maximize Web Site Traffic and a frequent presenter on the topic of Internet Marketing.
For more information on EF Educational Tours, call 800-637-8222 (international tours) or 800503-2323 (North American tours) or visit http://www.eftours.com.
For more information on @Web Site Publicity, call 800-450-2818 or visit http://www.websitepublicity.com.
# # #