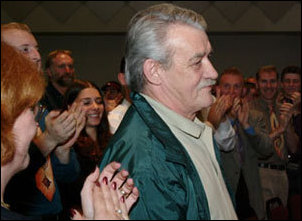 I assure them that today is the same as yesterday. We are all here for each other.
Los Angeles, CA (PRWEB) September 29, 2005
In celebration of National Alcohol and Drug Addiction Recovery Month, numerous people in recovery around the country are speaking out with their success in overcoming addiction. The theme for Recovery Month 2005 is "Join the Voices of Recovery: Healing Lives, Families and Communities."
At Narconon of Georgia there is one staff member, Gordy Weinand, who has much to celebrate. Having graduated the first Narconon program with founder William Benitez in 1966, Gordy has been able to find happiness in sharing his successes with others over the last four decades.
"Success equals 40 years of being dedicated to the greatest self-help program in the world – Narconon," says Gordy, "My own personal successes in the past 40 years have given me the strength and courage to be a part of helping others fight their fight."
The Narconon network, having helped over 15,000 addicts achieve drug free lives throughout the world, is a strong supporter of the recovery IS possible message. Narconon rehabilitation centers continually achieve a success rate of approximately 70% by using the proven drug-free approach developed by American author and humanitarian L. Ron Hubbard. Many graduates of the program come forth during National Recovery Month to share their stories and give hope and encouragement to others.
The Narconon program was founded by Benitez inside Arizona state prison, where he too was a former drug user. After years of abuse and jail sentences, Benitez found the courage and determination to help himself and others get off drugs for good. In the last four decades the Narconon network has grown from that one prison program to well over 100 programs in 40 countries, because it works.
"It is an incredible feeling to have 35 students look up to you and ask questions about the beginning" Gordy continues, "I assure them that today is the same as yesterday. We are all here for each other."
National Recovery Month, sponsored by U.S. Department of Health and Human Services, Substance Abuse and Mental Health Services Administration, is celebrated in September each year and is in its 16th annual observance.
For more information about the Narconon Drug Rehabilitation and Education Program or to find the facility nearest to you, contact Narconon International at (323) 962-2404 or visit http://www.narconon-news.org.
# # #