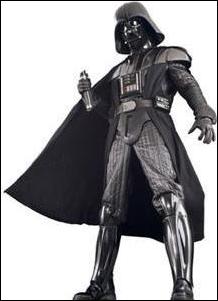 Star Wars Episode III: Revenge of the Sith
Boca Raton, FL (PRWEB) September 29, 2005
With over $800 Million in worldwide box office "Star Wars Episode III: Revenge of the Sith," the final installment in the "Star Wars" series is set to break records in another category. Fuelled by sales to collectors and Halloween costume seekers, authentic Star Wars costumes are likely to sell out well before Halloween. Darth Vader costumes, Jedi costumes, Chewbacca and replica lightsabers are among the top selling Halloween costumes and accessories.
"By far, the top selling and most popular costumes this Halloween will be 'Star Wars' costumes." Said Shari Maxwell, Vice President of leading Halloween costume retailer Annie's Costumes http://www.anniescostumes.com. "Some sizes of 'Star Wars' costumes are already running low, and we will be sold out by mid-October of many sizes and costumes."
The authentic star wars costumes are all approved by George Lucas. They differ from the regular costumes in that they are made with very deluxe materials and accessories. For example, authentic replica lightsabers, another favorite among "Star Wars" enthusiasts, feature authentic motion sensor controlled sound effects.
Apparently there will be a lot of adults and children going to the dark side of the force, because Darth Vader is the top selling "Star Wars" costume. Storm troopers, jedi costumes , and Chewbacca costumes are also popular choices for "Star Wars" enthusiasts who are going trick or treating this year. Ladies and girls will choose from variety of Queen Amidala and Princess Leia costumes. "Star Wars" costumes are also available in child (boys and girls) and adult sizes for men and women as well as sizes for babies and even pets. This Halloween don't be surprised to see the whole family dressed up as "Star Wars" characters.
Some "Star Wars" enthusiasts are taking it one step further and investing in collector's items including authentic "Star Wars" costumes. Annie's Costumes has authentic "Star Wars" costumes available in adult sizes up to extra large. "For many fans, it's not just about dressing up as their favorite characters, but obtaining collectors pieces," said Harold Maxwell, president of http://www.anniescostumes.com sister website http://www.extremehalloween.com. "We carry many limited edition collector's items including the authentic Darth Vader costume. It has a mask and helmet cast from the original Lucas Studios' mold and a sound module which plays the realistic Darth Vader breathing sound, it sells for $797. We have an authentic Chewbacca costume with Deluxe multicolored long hair fur and latex mask which sells for $495."
Ms. Maxwell identified additional hot Halloween costumes for 2005 "Other movies such as Charlie and The Chocolate Factory, Tim Burton's Corps Bride, Batman Begins, Fantastic Four, Lord of the Rings, and Harry Potter are driving Halloween costume sales. Our customers are voting for our annual list of the Top Halloween Costumes for 2005. Customers can vote for a chance to win a Sony PSP."
Annie's Costumes:
Annie's Costumes ( http://www.anniescostumes.com ) is part of the Extreme Halloween Network. Extreme Halloween Network is the web's most complete source for costumes for all holidays and occasions. Besides Halloween costumes, they have sites devoted to costume accessories, theater makeup, costume wigs, Santa Suits, western wear, gothic fashions, magician supplies and more. Popular costumes this year include authentic Star Wars costumes , Darth Vader Deluxe costumes, Jedi costumes and replica lightsabers.
Annie's Costumes has been providing Halloween costumes, costume accessories and related products for online shoppers since 1996.
###