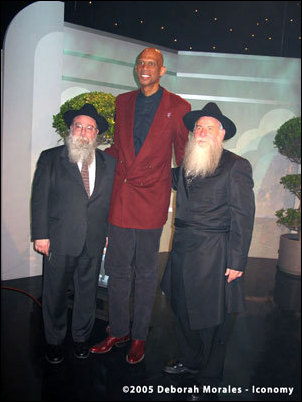 I hope my presence here is a unifying signal to the many communities, including Muslim's and Jews everywhere, that we can make great progress if we join together for good
Hollywood, CA (PRWEB) September 29, 2005
The annual Chabad Telethon became a unifying event this year as Muslim Kareem Abdul Jabbar danced with the Rabbis in a display of unity and support to raise funds for Hurricane Katrina Victims. Joining Abdul Jabbar were internationally renowned actor and Academy Award Winner Louis Gossett Jr.
and corporate attorney Steven Anapoell.
Abdul Jabbar brought the crowd to new heights as he encouraged contributors to open their hearts and wallets to support the Chabad's fundraiser. Best known for his famous "skyhook" and as the NBA's top all time leading scorer, Kareem is also an established New York Times bestselling author. His latest book, Brothers in Arms, is uniquely pertinent to the Jewish community.
"I hope my presence here is a unifying signal to the many communities, including Muslim's and Jews everywhere, that we can make great progress if we join together for good" says Abdul Jabbar.
Steven Anapoell, Abdul Jabbar's attorney and a partner with the international law firm of Greenberg Traurig, LLP felt the event captured the essence of community outreach and support. "It gives me great pleasure to attend an event where the fundraising efforts and proceeds benefit the entire community, both Jewish and non Jewish."
The telethon, now in its 25th year, is a showcase for Chabad's activities, and an entertainment platform that provides artists and celebrities an opportunity to contribute their time and talent while learning just a bit more about how this organization is impacting the world. The Chabad has been providing extensive hurricane relief to Katrina survivors across the Gulf Coast, and is also continuing to scale the vital educational and social programs the organization is so well known for.
The event, labeled "Celebration 25" to commemorate the 25th year of Chabad's Telethon and fundraising began, isn't over when the lights are dimmed and the cameras turned off. Contributions are accepted all year long at their web site, http://www.tolife.com.
For additional press info, please contact:
Deborah Morales, Iconomy, 310-762-1001
###