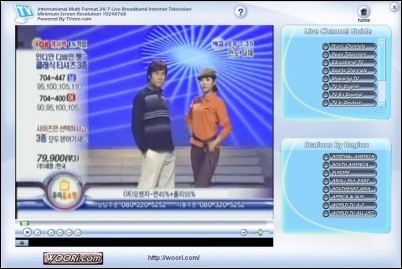 (PRWEB) October 7, 2005
TVexe.com is proud to announce the release of TV v2.0, an extremely easy to use application program for the Windows 95/98/ME/NT/2000/XP/2003 ® platforms.
Version 2.0 is totally redesigned and reengineered with much better user interface. TV is an innovative application software which brings global television on your personal computer.
Television is no longer restricted by boundaries anymore. You can download this free software which enables you to access more than three hundred live channels all over the world. You can search for and find your favorite TV stations. You can search for a channel from the given categories or from the regional list. Channels related to sports, news, music, educational and many more can be found. Even Television based on different languages including English, French, Spanish, German, Portuguese & Arabic.
The interface of the application is highly intuitive and does not require any special configurations in order to access all the channels around the world. The usage is based on a purely plug and play experience which makes it easy to operate. You can view a live broadcast only with the aid of an Internet connection and nothing more.
TV got 25 different five star awards at U.S and worldwide shareware and freeware sites.
TV 2.0 features multi format (Windows Media® & RealVideo®); Live online streaming 24/7 worldwide Television (You don't have to care about the station's broadcasting format. TV will run the station's live video in a fixed 640x480 pixels sized screen NTSC like; 4:3 'natural' aspect ratio.); TV will switch automatically between formats; and TV works with any broadband Internet Service Provider (ISP) worldwide.
System requirements:
TV will run under Windows 98/95/2000/ME/XP and NT 4.0. It requires 1 megabytes of disk space and Internet Explorer 6 is recommended.
1024x768 screen resolution, Windows Media Player, Real Player
Price and Availability
TV is available for download now. The price is $0.00
TV can be downloaded freely from http://www.tvexe.com (1Mb Only) no expiration date.
For more information please contact Mr. Nir Romem, e-mail info@tvexe.com Tel: +(972)-54-7331904
For the editors:
Please include a copy of TV software at your magazine CD-ROM / Download link web site.
Direct download link (1Mb):
http://www.tvexe.com/tv.exe
Screen Shot:
http://www.tvexe.com/screenshot_tv.jpg
# # #