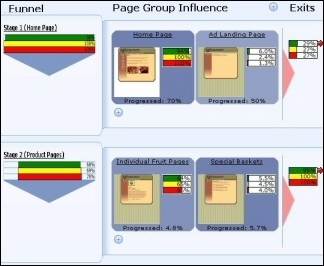 ClickTracks' funnel report lets me group pages into a funnel stage, rather than just letting me look at one page at a time. And the fact that I can apply labels means I can segment visitors however I want, so that I can quickly get to the exact data I need.
(PRWEB) October 13, 2005
October 13, 2005--Santa Cruz, California—ClickTracks, a recognized innovator in the field of web site traffic analysis, today released version 6 of its web analytics software. And ClickTracks customers who are beta testing the new version have good things to say about the latest features.
Intuit loves the funnel report
Intuit's Avinash Kaushik is impressed with ClickTracks 6. As Senior Manager of Intuit's Web Research and Analytics team, Avinash uses ClickTracks on Intuit's customer-facing sites, and was particularly pleased with the addition of the funnel report, one of ClickTracks 6's newest features.
"The first thing we did with the Funnel Report was to run it on the QuickBooks site. Amazing! Of course we had assumptions on how people used the site. After the funnel report, we realized what we had assumed was wrong," Avinash said.
"ClickTracks' implementation is so incredibly cool because it's clear that they [ClickTracks] thought this through and got it right," Avinash continued. "Sure, everyone looks at path analysis, but if you look at people flowing through your site in terms of pages, you'll never get to the point where you will make a decision. Break it into five levels, group the pages and segment the visitors, and it becomes exponentially useful."
"It's no wonder that ClickTracks dominates the SMB market--their products are fast and easy to implement, with an incredibly small footprint. But, now that they can share instant reports via a web browser, ClickTracks is in the game at a whole new level. We're expanding our use of ClickTracks as a corporate-wide standard for web-analytics at Intuit, and imagine other larger companies will do the same," Avinash concluded.
Smoothfitness.com finds site archiver extremely useful
"There isn't just one feature that I'm excited about…I like quite a few of them," said Kevin French, Director of Marketing for SmoothFitness.com. "The site archiver functionality is something that's going to be extremely useful for us. After having the same web site for 8 years, we're in the process of a major overhaul. We're going to archive current versions of our site, then compare the metrics on those to the metrics on the new site once it's live. Because we're keeping the same file structure, we'll be able to do a true 'apples-to-apples' comparison between the new and old sites to see what kind of an impact our changes are having on leads and conversion rates."
Kevin, a former WebTrends aficionado, also raved about the introduction of the funnel report to ClickTracks' offerings. "ClickTracks' funnel report lets me group pages into a funnel stage, rather than just letting me look at one page at a time. And the fact that I can apply labels means I can segment visitors however I want, so that I can quickly get to the exact data I need."
Webuildpages.com says 'great stuff!'
Todd Malicoat, VP of Sales and Marketing for WeBuildPages.com said that the version 6 release is, "…great stuff, as always. ClickTracks continues to go above and beyond with their ability to listen to customer feedback and concerns, and actually gets new useful features implemented into their upgrades. Version 6 is no exception. Their responsiveness to customers, combined with their impressive turnaround time in implementing new features, is what makes them my favorite choice to refer customers to for their analytics needs."
About ClickTracks 6
ClickTracks 6 offers unique capabilities not available in competitive products--all of the program's features are tied to ClickTracks' mission to help customers understand and act on visitor trends in both current and previous versions of their web sites.
The Version 6 release covers the entire family of ClickTracks web analytics software products: ClickTracks Analyzer ($495), the company's entry-level web metrics offering; ClickTracks Optimizer ($1195), mid-range web analytics with robot reporting and e-mail campaign tracking; and ClickTracks Professional (starting at $3495), robust web site traffic analysis that includes ROI tracking capabilities.
A/B Splits, Funnel Reporting, Time Splits and Site Archiving are only available in ClickTracks Professional. Visit http://www.clicktracks.com/6 to view a complete feature breakdown for each product. Hosted versions of each product are also available; pricing starts at $49. Visit http://www.clicktracks.com/products/pro/hosted.php for more information on hosted offerings.
About ClickTracks
Based in Santa Cruz, California, ClickTracks is the maker of award-winning web analytics software. The ClickTracks family of software was designed out of sheer frustration with existing web site traffic analysis. Spending hour upon hour trying to understand web site stats was certainly a motivating experience: there had to be a better way.
ClickTracks was voted "Best Web Site Analytics Tool" in ClickZ's 2003, 2004 and 2005 Marketing Excellence Awards, and received a Computerworld Innovative Technology award in the web site management category. ClickTracks' software has been reviewed and featured on CNET, ZDNet, Builder.com, TechRepublic, Internet.com, CRM Magazine, Media Magazine, MarketingSherpa and About.com. The ClickTracks line of web analytics software includes ClickTracks Analyzer, ClickTracks Optimizer, ClickTracks Professional, ClickTracks Hosted and BidHero by ClickTracks. For more information, please visit http://www.clicktracks.com.
###