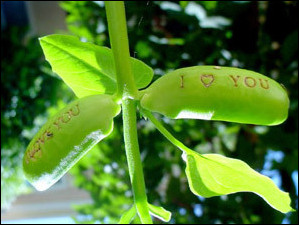 Our product is a much more creative way to express a feeling to a friend or loved one than sending common gifts such as candy or flowers, and everyone loves to be surprised, from kids to adults
Spokane, WA (PRWEB) October 18, 2005
Miracle Products, LLC announces the release of the Amazing Message Plant™ (http://www.message-plant.com), a plant that blossoms with a secret message that's sure to kick start all types of relationships.
The first plant in the series develops with an "I LOVE YOU" message on the bud. After initially watering the plant, the whole germination process takes about 7-10 days and the surprise message is revealed. These twining-type plants are virtually maintenance free, only requiring indoor sunlight and occasional watering. The Amazing Message Plant™ can grow as high as 2-4 feet.
"Our product is a much more creative way to express a feeling to a friend or loved one than sending common gifts such as candy or flowers, and everyone loves to be surprised, from kids to adults," says Tony Berendes president of Miracle Products, LLC who discovered the product a year ago. "You get daily inspiration by watching these plants grow; it's much more exciting than opening a fortune cookie."
How the Buyer Keeps the Surprise
When initially purchased, only the buyer of the Amazing Message Plant™ knows what message will appear on the plant compliments of a handy sticker affixed to the packaging. All the buyer has to do is remove the sticker before giving the gift to a friend or loved one. The recipient of the gift is truly astonished when the message is revealed.
Universal Appeal
According to the Society of American Florist's latest survey in 2004, the U.S floral market generated $19.5 billion and according to Market Research.com U.S. sales of greeting cards were valued at $7.5 billion in 2004. "The Amazing Message Plant™ provides consumers the benefit of both worlds - a greeting card and a thriving plant," adds Berendes.
Different versions and different messages of the Amazing Message Plant™ will coincide with calendar events such as Christmas, Valentines, Mother's Day, Father's Day, Independence Day, and Back to School. There will be year round plants that express everyday sentiments such as "GET WELL," "I MISS YOU," and "GOOD LUCK."
The Amazing Message Plant ™ is available at http://www.message-plant.com.
About Miracle Products, LLC
Based in Spokane, Washington, Miracle Products, LLC creates and distributes unique consumer products such as: Little Tees™ Air Fresheners and Greetings & Melodies™, a popular line of CD music & holiday greeting card combos. Attention editors—The Amazing Message Plant is available for review upon request. For more information, visit http://www.message-plant.com.
For more information:
David Spector, Director of Marketing
Miracle Products, LLC
Voice: 856-428-2193
Fax: 509-232-4041
david.spector@cox.net
# # #