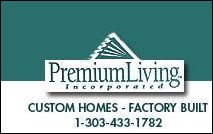 For many years, PremiumLiving has been ranked No. 1 for customer service and satisfaction by our customers
Denver, CO (PRWEB) October 25, 2005
First time home owners and others looking for the perfect modular homes can now turn to PremiumLiving.net for relevant information and excellent customer service.
PremiumLiving Incorporated, a family-owned business that specializes in building modular homes, recently created its innovative site to provide customers with up-to-date information and to help them find high-quality, custom-designed factory-built homes at affordable prices.
"For many years, PremiumLiving has been ranked No. 1 for customer service and satisfaction by our customers," says Lance McHugh of PremiumLiving. "The new Web site gives them just one more reason to choose us to build their dream homes."
The Web site (http://www.premiumliving.net ) offers visitors a variety of options to help them in their pursuit for finding custom-made modular homes. Even first time home buyers will find solace in the wealth of floor plans and construction series available to them. PremiumLiving.net also supplies users with easy-to-navigate resources that explain the advantages of purchasing modular homes instead of contracting builders to manufacture one on site.
One of the greatest advantages to purchasing a home through PremiumLiving is the high standards its residences must meet before a family can move in. Each home is built to either meet or exceed the minimum standards of the Uniform Building Code issued by the state of Colorado. Each location is built in a climate-controlled environment, which leads to improved living conditions by the time the project is complete.
Because of this, and many other reasons such as time, value and money, PremiumLiving has helped thousands of families create designs that meet each of their individual needs.
Potential home owners can contact PremiumLiving representatives by calling (303) 433-1782 or by requesting information at http://www.premiumliving.net/
About PremiumLiving Incorporated
The family-owned business has been serving its community for more than 34 years. PremiumLiving strives to represent the finest built homes in the region but to uphold that quality with superior customer service. The company ships modular homes to Nebraska, Wyoming, Montana, Kansas, Utah and Colorado, and its employees work with a customer base of both first time home buyers and people who have owned numerous houses. Value, quality, and customer service are just a few of the great reasons to buy from Premium Living Inc. The time to build is now, and the company to trust is Premium Living, Inc. For more information, please visit http://www.premiumliving.net/
Media Contact:
Lance McHugh
303-433-1782
info @ premiumliving.net
# # #