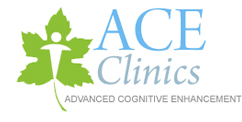 The treatments available for treating attention deficit disorders and other cognitive impairments were simply inadequate
Toronto, Canada (PRWEB) October 25, 2005
Attention deficit disorder (ADD) and attention deficit hyperactivity disorder (ADHD) are the most commonly diagnosed mental health problem in kids. Some 5 to 10 percent of all school-age children suffer from it and more than half of them won't outgrow it. Adults with ADD or ADHD are more likely to experience job and social related problems.
Both parents and healthcare professionals are constantly looking for alternative treatments for ADD and ADHD, especially after the recent warnings by the FDA about dangerous side effects related to medication used to treat ADD. Such drugs may produce dangerous side effects: aggression, hallucinations, anxiety, depression and suicidal thoughts or actions.
Toronto-based ACE Clinics have been treating people with inattention problems for over 15 years. Frustrated by the lack of effective tools for helping their patients, the clinic developed cutting edge software to target the underlying neurological causes of attention deficit disorders and memory deficiencies in individuals with attention deficit disorders (ADD, ADHD) and learning disabilities (LD).
With clients in 25 countries, ACE Clinics is continuously improving their program to also address specific learning disorder such as dysgraphia, dyslexia, dyscalculia and asperger's. Their unique programs correct the underlying neurological cause of ADD and ADHD in kids and adults.
"The treatments available for treating attention deficit disorders and other cognitive impairments were simply inadequate," said Bob Gottfried, PhD, clinical director of the ACE development team. "We spent five years of research working with children and adults and making significant changes in cognitive performance. The results have been remarkable."
The programs developed at the clinic train the brain to correct attention and memory deficits quickly and permanently. They work on the principles of Neurofeedback combined with enhancing core cognitive skills.
The programs enhance frontal lobe activation. "We know both from studies and from our own research that individuals with attention deficit experience reduced activity in their frontal lobes. We train the frontal cortex to improve activation in a short period of time," explained Bob Gottfried.
In addition, we work on improving the different aspects of attention, for instance, divided attention, multitasking, visual and auditory processing, offsetting distractions and enhancing speed of processing, regardless of subject matter or situation. In addition, we work on improving all aspects of memory including short term, working and long term memory. With the availability of home based programs we have already helped thousands of people in 25 countries.
"I introduced the program to a 7-year-old girl who has attention deficit and an auditory processing problem," said Verona Clark. "She has been working with the program for six months, and she has shown such remarkable improvement that her occupational therapist and speech therapist have both suspended their treatment."
In addition to correcting ADD, ADHD, learning disabilities and memory loss, these programs help busy executives think better and work smarter, and athletes to increase their concentration and focus for peak performance.
For more information about these groundbreaking programs, visit http://www.ACEclinics.com.
About ACE Clinics:
Advanced Cognitive Enhancement (ACE) Clinics, using a variety ofneuro-cognitive modalities, offer a cutting-edge approach for treating cognitive difficulties.
Contact:
Bob Gottfried PhD
Advanced Cognitive Enhancement (ACE) Clinic
416 222 0004
# # #