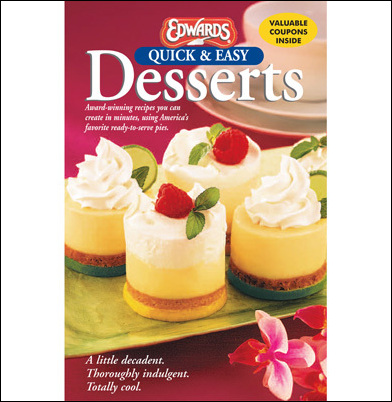 The holidays are just around the corner and these recipes are delicious and easy to prepare
Atlanta, GA (PRWEB) October 31, 2005
Just in time for the holidays, gourmet dessert maker Edwards is delivering shipments of a free recipe booklet, "Quick & Easy Desserts," to participating grocers nationwide. Georgia-based Edwards is best known for its No. 1 selling Key Lime, Lemon Meringue and Georgia Pecan pies.
"The holidays are just around the corner and these recipes are delicious and easy to prepare," said Melinda Pritchett, Edwards Brand Manager. "Consumers will find that with Edwards, they don't need a lot of time or culinary experience to prepare these Quick & Easy restaurant-quality desserts."
Winning desserts from this year's "Edwards Invent Your Own Indulgence" national dessert contest are showcased in the recipe booklet. Chef favorites include: "Georgia Pecan Sweet Potatoes" by Grand Prize winner Bonnie Hicks of Lancaster, Ohio; 2nd Place winner "Temptational Key Lime Macaroon Pops" created by Susan Scarborough of Fernandina Beach, Fla.; and "Key Lime Tiramisu" which won 3rd Place for Elise Lalor of Issaquah, Wash.
"Contestants submitted some fabulous recipes which incorporated our desserts and we're very proud to share them," explained Pritchett. Edwards "Quick & Easy Desserts" recipe booklet contains valuable coupons and a mail-in rebate offer good for a free pie. No purchase is required. Look for the free recipe booklet in the Edwards Pecan displays at participating grocers, online at http://www.edwardsbaking.com, or by sending a self-addressed, stamped envelope to Edwards, Consumer Affairs Department, Attn: Quick & Easy Recipes, 2855 Rolling Pin Lane, Suwanee, Georgia, 30024.
Indulgence finalists recently competed at the Schwan's Bakery Innovation Center. Entries were judged by Chef Fritz Schultz and Chef Kit Kiefer, Corporate Executive Chefs for Schwan's Bakery, Inc., which sells Edwards desserts. Each recipe was judged on ease of preparation, creativity, appearance, and taste. This holiday season serve one -- or several, of these gold-medal desserts.
Comfort Gourmet Sweet Potatoes: Bonnie, an American Eagle pilot based at Chicago's O'Hare Airport, claimed the Grand Prize for her comfort gourmet sweet potatoes. Using Edwards Georgia Pecan Pie her "Georgia Pecan Sweet Potatoes" is topped with lightly-toasted marshmallows, cinnamon and nuts. It doubles as a side dish or dessert. Bonnie won a week-long, gourmet getaway for two valued at $5,000 at the CuisinArt Culinary Resort and Spa in Anguilla, British West Indies.
Key Lime Designer Pops: 2nd Place winner Susan created "Temptational Key Lime Macaroon Pops" with Edwards Key Lime Pie Slices. Susan, an artist, wife and mother of four, fashioned a regional favorite into a whimsical gourmet treat that's fun to eat. Served on popsicle sticks and smothered with rich chocolate, this dessert is fun to make and share.
Trendy "Tini" Tiramisu: 3rd Place winner Elise, co-owner of a travel agency, serves her winning dessert in martini glasses reflecting her worldly, white table linen style. Garnished with dark chocolate shavings, raspberries and inspired by the classic Italian tiramisu, Elise's "Key Lime Tiramisu" can be prepared in advance and set on the table before guests arrive. Made with Edwards Key Lime Pie Slices, this festive dessert adds a distinctive gourmet finish to any occasion.
Edwards gourmet desserts are found in grocer's freezers nationwide as whole pies and in two-slice packages. Award winning dessert flavors include the best-selling Chocolate Crème made with HERSHEY'®S, OREO® and Turtle among others. The Edwards Baking Company was founded in 1950 by namesake Tom Edwards as a small retail bakeshop in Atlanta. Edwards desserts are manufactured and distributed by Schwan's Bakery, Inc. based in Suwanee, Georgia.
Media Contact:
Deb McGhee Speights
Veux Marketing, Inc.
770-925-4857 (Office)
404-871-8444 (Pager)
# # #