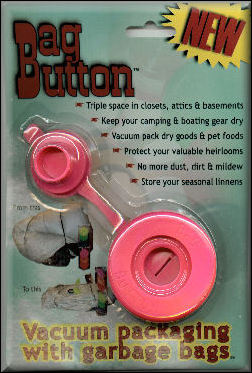 Silver Creek, WA (PRWEB) November 23, 2005
BagButton… the ingenious tool that turns most plastic bag or garbage bags into a space saving space bag container.
Use it to store bulky seasonal clothes or extra bedding and triple your closet space.
Keep sleeping bags, clothes, pillows and camping gear dry on camping trips.
Put more in your travel bag for travel or dry bag for boating or duffel bag for Uncle Sam.
Or use it to compact your trash.
The BagButton is completely portable, when used with the convenient BagButton hand pump otherwise your vacuum cleaner will do… To use the bagbutton simply place items into a plastic bag, twist the bag and insert the reusable o-ring. Then snap the BagButton into place… connect your hand pump or vacuum cleaner hose and pump the air out. Once the air has been eliminated, remove the BagButton and o-ring then tie off the bag. Your items are now airtight and water proof and your BagButton is ready to be re-used over and over again. With plastic bags coming in some pretty big sizes, it's left up to your imagination as to what you want to store in them.
The BagButton is manufactured and packaged in the United States and shipped World wide. BagButton has an established presents in almost every country in the world. BagButton LLC with some miner growing pains had the foresight to ramp up production for this coming Christmas season in the US at least that was their goal. BagButton LLC had opened up for business in the UK earlier this year,http://www.bagbutton.co.uk, and a few large orders have depleted much of the stock piled inventory that was meant for the US this season. If you want your BagButton for Christmas, do it now.
BagButton LLC is consider to be one of the fastest growing companies in the Northwest. It was briefly reported that BagButton LLC will file for an initial public offering of stock in its innovative invention. The World's only manufacture of the BagButton and its product line. BagButton officials have set no date for the IPO, but believe it could raise as much as 4 ml US dollars. BagButton had pro forma sales of almost 22ml US dollars.
In BagButton continuing quest for public awareness BagButton will be doing demonstrations at the Worlds largest Christmas Bazaar trade show in Portland, Oregon from November 25th to December 5th, 2005.
President and CEO, Larry Storey will be available for interviews at (360) 985-2791.
###