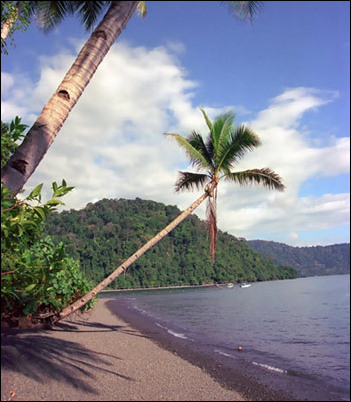 (PRWEB) December 5, 2005
Remote and exotic, explore Southern Pacific Costa Rica and the Osa Peninsula with GoVisitCostaRica.com for a truly magical vacation filled with amazing adventures and set amid stunning lush landscapes. Rugged and pristine, this region of Costa Rica is among the premier ecotourism destinations in the country and has been called "the most biologically intense place on earth" by the National Geographic magazine. Offering unparallel beauty, Drake Bay, the Corcovado National Park & the Piedras Blancas National Park protect some of Costa Rica's most superb natural wonders.
Home to roughly 5 percent of the world's biodiversity, Costa Rica's landmass is only 0.01 percent of the planet's surface. What this fact translates into is that Costa Rica is indeed, a beautiful place to explore. With more than a quarter of the country covered with national parks and protected wildlife reserves, Costa Rica is an ecotourism haven with an astonishing and amazing variety of flora and fauna. Costa Rica vacations with GoVisitCostaRica.com encourages people to explore this country in its full glory, with the promise of the vacation of a lifetime.
With a rich heritage of being discovered by Sir Francis Drake during his circumnavigation of the globe in 1579, the gorgeous and secluded Drake Bay is prefect for those who want to explore an exotic adventure vacation in Southern Pacific Costa Rica. Surrounded by dense rainforests, a diversity of indigenous wildlife and breathtaking beauty, enjoy nature at its very best in this region. An adventure lover's dream, Drake Bay has a variety of activities to keep one busy for days on end. Snorkel, scuba dive, hike and fish here while staying at gorgeous ecotourism lodges like the Bahia Paraiso Rain Forest Lodge, the Casa Corcovado Jungle Lodge, the Corcovado Adventures Tent Camp, the Las Caletas Lodge and the Proyecto Campanario for an amazing vacation.
From Drake Bay you can head on directly into the Corcovado National Park, the largest tropical lowland rainforest in Central America. Home to the country's biggest Scarlet Macaw population, the Parque Nacional Corcovado due to its remote and virgin beauty is indeed a sight to behold. With its varied flora and fauna and primitive walking trials and paths, this park offers tourists a completely unique and different view of the natural beauty found in this tiny country. Beautiful, enchanting and gorgeous, Corcovado is home to more than 400 species of birds and 140 different animals.
A sister park, the Piedras Blancas National Park joins the Corcovado National Park to protect an important and ecologically diverse biological corridor in the Golfo Dulce. This park is home to hundreds of rare flora and fauna, while studies are still underway to determine the many undiscovered species of wildlife that life in this habitat. A wonderful getaway for the nature lover, the Piedras Blancas National Park has wonderful eco-lodges and all inclusive hotels like the Villas Corcovado and the Playa Nicuesa Rainforest Lodge to help one stay close to the park's many natural wonders.
An excellent alternative base camp while exploring the Osa Peninsula is to stay at the El Remanso Rainforest Beach Lodge in Puerto Jimenez. This small town is perfect for those who want to visit the Parque Nacional Corcovado as well as the Piedras Blancas National Park.
Media Contact:
Todd Sarouhan
619-347-9409
# # #