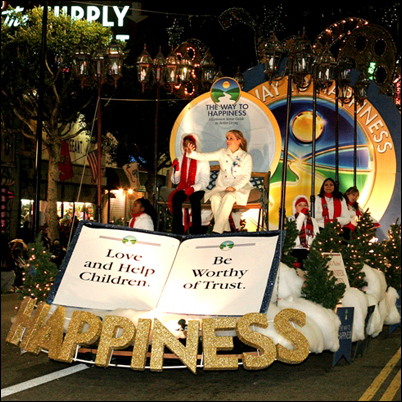 Be Worthy of Trust, and
Glendale, CA (PRWEB) December 1, 2005
The holiday season got off to a star-studded start this week with the 74th annual Hollywood Christmas Parade. The parade was introduced by the cast of Irving Berlin's White Christmas. The many celebrities added happiness and holiday cheer as an estimated one million spectators lined Hollywood Boulevard to see the floats, marching bands and, of course, the arrival of Santa.
Jennifer Aspen, star of ABC's family comedy, "Rodney," was the spokesperson on The Way to Happiness Foundation International float, which celebrates The Way to Happiness booklet, written by humanitarian L. Ron Hubbard. The booklet contains 21 common sense moral values such as "Set a Good Example," "Be Worthy of Trust, and "Love and Help Children." Sixty-five million copies of the booklet have been distributed in 91 languages around the world.
The busy actress recently filmed a role in New Line Cinema's "Mr. Woodcock," opposite Billy Bob Thornton, Susan Sarandon and Seann William Scott. Aspen will play the sexy, Southern lady-friend of Thornton's character.
Aspen spoke passionately about the need to teach children common sense values like those found in this booklet. That a decline in moral values is affecting our children is evident when you see statistics like these:
. In 1940 the most pressing discipline problems kids faced in school were running in the halls and making noise. By 1990 the major discipline issues were drug and alcohol abuse, pregnancy, rape and assault – from the Reason Public Policy Institute.
· American children are more at risk from firearms than the children in any other industrialized nation. In one year firearms killed 0 children in Japan; 19 in Great Britain; 57 in Germany; 109 in France; 153 in Canada; and 5,285 in the United States. 20% of US high school students admitted to carrying a deadly weapon to school.
While we all look forward to a happy holiday season, Aspen emphasized how important teaching good values is to the long-term happiness of our children.
"I use this booklet in my own life every day," she said.
http://www.thewaytohappiness.org
# # #