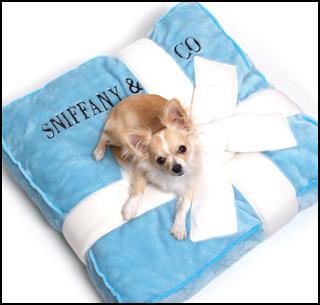 Great World of Little dogs
Thousand Oaks, CA (PRWEB) December 2, 2005
A husband and wife team out of Thousand Oaks, CA, has compiled a well-focused catalog and website for millions of small dog lovers around the world. John and Angela Grieco's love for little dogs is evident in the wonderful photography and informative articles throughout. Many of the popular small breeds are illustrated enjoying the latest comforts for home or travel.
The company, G.W. Little, which stands for the "Great World of Little dogs", has just released their Holiday issue and consumer reaction has been overwhelming. According to the Grieco's, "we have been receiving so much wonderful feedback from customers thanking us for our effort, and how much it means to them and their pet family to have found us. This is what makes it all worthwhile for us. When we hear comments like 'I love, love, love the videos [on your website], they are fantastic! They made my day and that was after a long and stress-filled one to boot' this is what propels us to do more."
For those who like to explore online, the G.W. Little website (http://www.gwlittle.com) is a fun-filled destination. You'll find dog videos, slide shows, and articles on nutrition, health, travel, crate training, and much more. You'll find strollers, playpens, faux-fur Alaska winter coats, treats, harnesses, leads, items which may be personalized, and gift wrapping is also available. You can even register your pet's name and birthday for special offers. Be sure to request a free catalog while online, it contains the latest and greatest in dog fashion and function.
Some of this season's hottest sellers have been: The Little Red Party Dress; A classic Jackie O' hand-knit sweater made from cashmere and angora by Jake Dynnis, Hollywood's hottest designer to the star's little dogs; A traditional Bomber-Style fully-lined faux suede harness- jacket by Susan Lanci Designs; A Haute Pocket microsuede donut-style bolster bed with a stuffed hood; And the newest release from celebrity pet photographer Christopher Ameruoso, Pets and Their Stars book, with over 100 actor's, musician's, and comedian's tender pet moments captured in this collector's edition. A great gift idea.
If you're one of the many millions who love the companionship of small dogs, G.W. Little is for you. For more information their call center can be reached toll-free at 1-866-GW-LITTL (495-4885). Company representatives will assist you with any and all measurements necessary for a proper fit. Most items are always in stock and ready for immediate delivery to your home or office.
About G.W. Little:
Founded in 2004 by husband and wife team John and Angela Grieco who have been in the pet industry for close to 20 years, and catalog marketers for over 14 years. With a strong focus on customer care and complete satisfaction, the emphasis is all about proper care and love for animals.
# # #