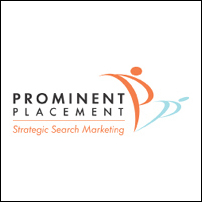 Local search marketing is exploding
Atlanta, GA (PRWEB) December 4, 2005
Prominent Placement, Inc., a leading Atlanta search engine marketing services firm, today announced that its Managing Partner, Stacy Williams, will lead a session during the upcoming Search Engine Strategies Conference 2005. The international conference, which is sponsored by Incisive Media and SearchEngineWatch.com, will be held December 5-8 at the Chicago Hilton in downtown Chicago. This is Stacy Williams' eighth consecutive speaking appearance at an SES conference.
Atlanta SEO expert Stacy Williams will join Patricia Hursh of SmartSearch Marketing and Justin Sanger of LocalLaunch! to present ways of building web site traffic by using local search engines, Internet Yellow Pages and other local Internet methods. "Local Search Marketing Tactics" will be held Thursday, December 8th beginning at 9 a.m. Attendees of the session will hear these SEO experts explain how to capitalize on all the options available and keep up-to-date on the constant changes in this industry.
"Local search marketing is exploding," says Williams. "The number of local searches more than doubled in just over a year, from January 2004 to February 2005. It's critical that businesses – whether they do business locally, nationally, or even internationally – include local search marketing tactics in their strategic plans. We've incorporated it into our suite of services for all of our clients, and they've consistently reaped the benefits from the additional exposure and web site traffic."
Stacy Williams is Founder and Managing Partner of Prominent Placement, Inc. With an extensive background in Internet strategies and tactics, she offers her clients cutting edge solutions that are always rooted in sound planning and implementation. She has nearly 20 years of experience and education in marketing. She has overseen web site development projects and traffic generation campaigns since 1995, and specialized in web site optimization since 1998.
A founding member of the Search Engine Marketing Professional Organization (SEMPO), the Technology Alliance of Georgia and the Atlanta Interactive Marketing Association, Stacy Williams is a frequent lecturer on Internet marketing. She has written articles for Digitrends, SEO Today, Competitive Edge and iMarketing News.
About Atlanta Search Engine Marketing Services Firm Prominent Placement:
Prominent Placement, Inc. is a full-service, award-winning Atlanta search engine marketing services firm founded in 2001. Nationally recognized as a leader in its field, Prominent Placement consistently demonstrates its foresight to rapidly adapt and stay ahead of an ever-evolving industry. Prominent Placement provides comprehensive programs incorporating the strategic use of organic web site optimization, pay-per-click advertising, local and Internet Yellow Pages placement, press release optimization, linking, online reputation management and SEM en Español.
The company's selective client roster spans multiple industries with numerous mid-size, growth-oriented businesses located in the Southeastern United States that value high impact results, and are well-focused, niche-oriented concerns. Prominent Placement distinguishes itself from the competition by its extensive marketing background and the ability to provide superior service through client collaboration and education.
For more information or to schedule an interview contact Matt Williams at 888.SEM.MKTR (888.736.6587) or visit us at prominentplacement.com.
###