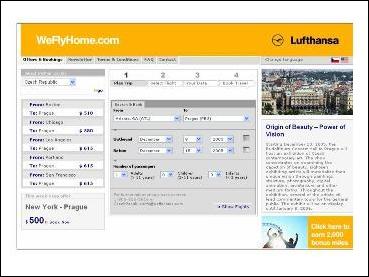 Our decision to more than triple the number of countries offered at WeFlyHome in just over six months time is a direct response to the extremely positive customer feedback we've received thus far
East Meadow, NY (PRWEB) December 2, 2005
Lufthansa today announced it has expanded "WeFlyHome," its Web site for U. S. residents with ethnic roots abroad, to include 15 additional countries in Eastern Europe, the Middle East and North Africa -- bringing the total number of countries offered to 20. WeFlyHome, a micro site accessible via lufthansa-usa.com/weflyhome, offers travelers a customized solution for visiting friends and family in specific countries overseas. Original destinations included Greece, India, Israel, Poland and Russia with features such as individual country pages in English or the local language offering the latest local travel news and information, an easy-to-use booking process with exclusive low fares, and simplified fare rules such as a six-month stay and five-day advance purchase period.
The 15 new countries now include Egypt, Bulgaria, Ukraine, Kazakhstan, United Arab Emirates, Turkey, Romania, Czech Republic, Croatia, Serbia & Montenegro, Bosnia & Herzegovina, Iran, Lebanon, Hungary and Jordan.
"Our decision to more than triple the number of countries offered at WeFlyHome in just over six months time is a direct response to the extremely positive customer feedback we've received thus far," said Thomas Winkelmann, Vice President – The Americas, for Lufthansa.
"The best thing about the (WeFlyHome) site is that it has a customer friendly interface for comparing available fares on different dates," said Abie Alexander, who recently booked a trip to India on Lufthansa's site. "I was able to use this function to tailor my itinerary to get the best rates, which were better than at other travel websites," Alexander added.
Travelers who book via lufthansa-usa.com/weflyhome and fly on or before December 31, 2005 will earn 2,000 bonus miles in Miles & More, Lufthansa's frequent flyer program. Miles & More membership and registration are required.
For more information or for tickets visit lufthansa-usa.com/weflyhome.
From its Frankfurt and Munich hubs, Lufthansa provides one of the most extensive global networks of any major airline, serving 355 cities in more than 90 countries worldwide, including 19 North American gateways.
# # #