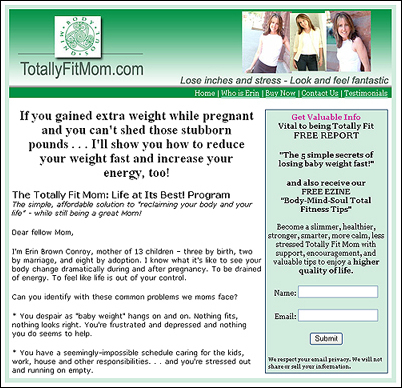 Moms need more than just a diet
Schoolcraft, MI (PRWEB) December 6, 2005
As we gobble down holiday goodies and gain unwanted inches, diet and weight loss marketers are already gearing up for the big after-holiday weight loss program binge. But one well-known author and expert on parenting is a step ahead by providing proactive help for moms; she has created a holiday fitness gift with much more potential than just keeping away those holiday pounds.
Erin Brown Conroy, author and mom of 13 children through birth, marriage, and adoption, understands first hand the unique struggles moms face in the holiday season, including balancing busy schedules, dealing with excited kids, and staying on top of feeling good and keeping fit.
To help busy moms reclaim a sense of control, slim down, and feel good about their lives, she has created the "Totally Fit Mom: Life at Its Best!" fitness program for women. The program, along with a free report, "The 5 Simple Secrets to Losing 'Baby Weight' — Fast!" is featured on her site at http://www.TotallyFitMom.com.
"It's exciting to see the huge difference that this program is already making in so many moms' lives," says Brown Conroy. She says that moms want to feel good and look good but often don't have the tools to get there. "Moms naturally put the child's and family's needs first, trading time running on the treadmill for time running after the kids."
Brown Conroy says moms gain excess weight in pregnancy and "often believe they'll never lose that 'baby weight' that hangs on – sometimes for years. But with a doable plan for healthy living – no matter how long it's been since baby arrived or what the time of year – moms can become the beautiful women they're meant to be…Enjoying more energy, having less stress, and, yes, looking great in that holiday dress too."
Brown Conroy's "Totally Fit Mom" program is unlike any other online weight loss program available today. "Moms need more than just a diet," says Brown Conroy. "They need a practical, whole-person lifestyle approach to weight loss that includes the body, mind, emotions, relationships, and the spiritual side of us too—along with tips on how to 'make it work' as a busy mom."
Brown Conroy has worked 30 years as a counselor and educator with children and families and is an adjunct professor at Cornerstone University. She writes a parenting column and is a frequent guest on radio, in magazines, and in online publications. Her tips for effective parenting are quoted in hundreds of parenting publications and newspapers including the Chicago Tribune, Dallas Morning News, and the Miami Herald.
Get your copy of the free report at http://www.TotallyFitMom.com.
Contact Info:
Erin Brown Conroy
269-207-0397
# # #