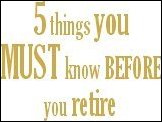 We face a demographic tsunami that will never recede.
Orange County, CA (PRWEB) December 13, 2005
During a national campaign to educate and "sound-the-alarm" about the approaching demographical and fiscal storms coinciding with the retirement of the baby boomer generation, David Walker, the comptroller general of United States said, "We face a demographic tsunami that will never recede." This baby boomer "tsunami" will reach our "shores" in two short years, and will forever change the way people think about retirement, for better or worse.
According to Matthew D. Hutcheson, Independent Pension Fiduciary, whether you will enjoy a satisfying and secure retirement is more dependent upon what you know, than your age or circumstances. "Our world and society are profoundly different that they were as little as 2 decades ago. Retirement itself is rapidly changing. A person needs more understanding and knowledge than their parents or grandparents did," says Hutcheson. "There are five things you MUST know before you retire so you don't end up living in poverty or suffering emotionally. They go against the grain of conventional retirement advice," he continues.
Hutcheson, who has helped tens-of-thousands of people prepare for retirement, has concluded that there are five simple principles that successful retirees know and live by. He asserts that the opposite is also true. Those who do not understand these principles will fail to implement them in their lives. By so doing, they inadvertently create the opportunity for confusion, stress, depression and significant failure in retirement.
To help people who are interested in a stress free retirement discover a better understanding, Hutcheson has prepared an audio presentation with optional PowerPoint, that explains the five things a person must know before they retire that dispels many commonly accepted myths. The CD gives short descriptions of the underlying concepts and principles, and also provides an action item for the participant to engage in. The purpose of the action item is to move the knowledge from theory to practice, thereby empowering you with knowledge you can apply immediately. "This presentation is both a thinking tool, and an action item tool. If we know what to do, we should do it. This presentation helps people know what they should know, and do what they should do," Hutcheson added.
For well over a decade, Hutcheson, has been curious about the seemingly small factors, "bits-of-knowledge" or other influences that "tip" one's retirement from fulfilling and comfortable to stressful and poverty stricken. These "bits" of knowledge as he calls them, have proven ironically elusive to most people because their underlying principles are so simple and obvious, that they go unnoticed on their own. "Many of the so-called experts help to spread many myths about what it takes to retire comfortably," exhorts Hutcheson. However, when these simple concepts and principles are carefully combined in a logical, sequential and strategic way, a person can be empowered to create a healthier, more emotionally secure, more certain retirement.
This presentation can be purchased and downloaded online by visiting http://www.5thingsyoumustknow.com, http://www.americasretirementcoach.com, http://www.theretirementhourblog.com, http://www.401khelpcenter.com and other websites that focus on helping our citizens prepare for retirement. The cost of the downloadable audio presentation is $17.98. Add $9.00 for the downloadable audio and the PowerPoint presentation. The whole presentation shipped on CD is $34.98.
As an added bonus, when you download the "5 things" audio presentation, Hutcheson will mail a copy of his "Retirement Playbook," (a popular audio CD that retails for $24.95) to you absolutely FREE.
You can listen to Matthew D. Hutcheson on the radio, every Thursday at 4 PM Pacific, 7 PM Eastern on a station near you. Check local listings. Audio stream also available over the Internet by visiting http://www.theretirementhour.com or http://www.retirementhourblog.com.
# # #