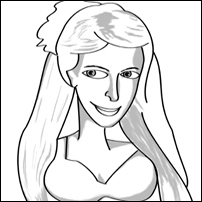 No matter what a woman looks like, if she's confident, she's sexy.
(PRWEB) December 7, 2005
Whip out the score cards, everyone! Paris Hilton has just been awarded "Sexiest Celebrity of 2005" hands-down by http://www.600.org.
What's in a name? Well, today it's Paris Hilton or Paris the Heiress.
If you're Shakespeare, "that which we call a rose by any other word would smell as sweet.*" But if you're Paris Hilton or "Paris the Heiress," the spicy lady who even has her own flagrant fragrant out in the world wide marketplace, the title is sweet.
Generally seen around-the-town wearing a tank top with denim jacket, low-cut Frankie B. jeans, waistbands glaring with faux-diamonds, and a face boasting Hollywood flash makeup, this ritzy icon attracts attention worldwide.
Paris Hilton has previously stated that "No matter what a woman looks like, if she's confident, she's sexy." This award only proves the validity of that statement.
Ms. Hilton, born on February 17th, 1981, is the daughter of real estate magnate Rick (& Kathy)Hilton. She is the great-granddaughter of hotel magnate Conrad Hilton and granddaughter of Barron Hilton. And she's noted as being the grand-niece of Nicholas Conrad "Nicky" Hilton (once married to Elizabeth Taylor) and co-heiress to an estimated $300 million family fortune with her younger sister, Nicky (2 years younger).
About Paris
Shortly after graduating from high school, Paris headed for the runway. Her modeling career featured participation in designer shows for famous names like Marc Bouwer and Catherine Malandrino. And her portfolio included a top ad campaign for Italian label Iceberg. Paris' modeling shoots have been published in national magazines; FHM, GQ and Vanity Fair. And she has been profiled in People magazine with her sister.
Continuing along with the actress avenue, Ms. Hilton appeared in several small films.
Her credits include Ben Stiller's Zoolander in 2001, The Simple Life, a reality show in 2003 with sequels in 2004 and 2005, Raising Helen in 2004, and a remake of House of Wax in 2005. She also released a book, Confessions of an Heiress in 2004.
Sexy Days
Referred to as a partying socialite, Ms. Hilton is rumored to have been engaged for about a year to Greek shipping heir Paris Latsis. And some name-dropping celebs she's been seen with include Nick Carter of the Backstreet Boys, model Tommy Hilfiger, boxer Oscar de la Hoya, actor Leonardo DiCaprio and Edward Furlong (Terminator 2). Other claims to sexy-fame include a rendezvous with an earlier boyfriend, Rick Solomon, AKA husband of actress Shannen Doherty and an alleged – and famous (both online and off) sex-tape scandal.
Sexy-antics noted by the press include but are not limited to allegedly dancing topless to get attention, wearing t-shirts with controversial slogans and being rowdy in public places.
So in conclusion, what's in a name like a rose? Or Paris Hilton? She who we call Paris the Heiress or Paris the "Sexiest Celebrity" might even sound as sweet. Go Shakespeare!
http://www.600.org features celebrity news and information on the web.
*From Romeo and Juliet (II, ii, 1-2)
** Paris Hilton quotes by 2005 BrainyMedia.com
###