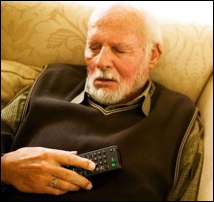 It is a mystery to me how anyone taking eight medications could hope to sleep well
(PRWEB) December 13, 2005
When you're a 20-something, you have only a one in eight chance of being troubled by insomnia. Unfortunately, by the time you hit 65, that figure grows to one in four. And insomnia is only one of many types of sleeping problems. About 60% of those over 65 have sleep troubles of some sort, including insomnia, snoring and sleep apnea. However, according to Dr. Joseph Mercola, founder of the world's most popular natural health website, Mercola.com, the aging process itself is not the main culprit in troubled sleep.
In a recent article, Dr. Mercola reported that most sleeping difficulties people experience as they age are related more to their health conditions and the medications they take. This is particularly true of baby boomers, who are heading off in record numbers to trendy sleep disorder centers that have doubled in number over the last seven years.
Prostate and bladder problems, arthritis pain and angina are just a few of the medical conditions that can hinder good sleep. Additionally, a number of medications have side effects that can interfere with sleep, including those used to treat high blood pressure, depression, cancer and sinus congestion.
Dr. Mercola notes that people become more likely to take prescription drugs as they grow older. He reports that typically, two out of three visits to a doctor will result in a drug being prescribed. "It is a mystery to me how anyone taking eight medications could hope to sleep well", he says.
He recommends that those with sleeping troubles develop a plan to wean themselves off prescription medications. In all his years of clinical practice, he has found very few patients who could not radically reduce or eliminate the drugs they were taking by adopting his nutritional and wellness approach. However, he cautions that this process should be done only under the supervision of a trained health care professional — one who has studied pharmacology and understands all the potential risks and necessary steps to help patients wean off the drugs safely.
After dealing with medication issues, Dr. Mercola recommends addressing lifestyle issues such as too much stress and too little exercise. Stress can lead to dysfunction in the adrenal glands, which perpetuates the struggle with insomnia. On the positive side, exercise is one of nature's best tranquilizers. Generally, people notice an immediate improvement in sleep once they begin an exercise program.
In his bestselling book Total Health Program, Dr. Mercola warns that inadequate sleep can lead to a host of problems, including hormonal and metabolic imbalance, accelerated aging, increased onset and severity of type-2 diabetes, high blood pressure, obesity, and memory loss. He is especially concerned by sleep-related memory problems, since they can mimic dementia and lead to misdiagnosis in the elderly.
Dr. Mercola recommends that everyone should get at least six hours of sleep each night to prevent accumulating a "sleep debt". For a free report on 29 ways to get a good night's sleep without resorting to drugs, readers can go to this link at http://www.Mercola.com.
###