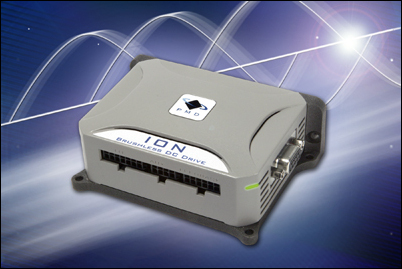 Lincoln, MA (PRWEB) December 7, 2005
Performance Motion Devices, a world leader in motion control technology, announces the NEW ION™ Digital Drive; the first in PMD's family of high-performance, network-connected motion control drives. These fully enclosed, compact modules provide network connectivity, power amplification and advanced motion control features in a rugged, easy to use package. They are available for brushless DC, DC brush and microstepping motors, and are ideal for medical, scientific, semiconductor, industrial, robotic and general automation applications.
Based on PMD's high performance Magellan™ Motion Processor, ION Digital Drive provides CANbus and serial communications, and accepts commands over the network to control trajectory generation, position loop, current loop and other advanced motion control features. The ION controls a 3-phase brushless motor using field oriented control or sinusoidal commutation, and operates at up to 40 kHz with an output capability of 500 W. User selectable profiling modes include S-curve, trapezoidal, velocity contouring and electronic gearing. Other features include hardware performance trace, on-the-fly profile changes, and PLC-style inputs and outputs.
President and CEO, Chuck Lewin says, "ION is a breakthrough in price and performance for both single-axis-motion-control and multi-axis motion control. It is cheaper and simpler to connect modules on a network than to use multi-axis cards with separate amplifiers. In the last five years, integration has been the watchword for the motion control industry and ION has just raised the bar on power, density, cost and performance for drives."
ION provides a flexible and powerful instruction set to initialize and control the motion application, monitor performance, and synchronize overall motion behavior. Working with the ION brushless DC Drive, PMD's powerful motion control software, Pro-Motion® GUI makes it easy to graph and analyze system performance, while C-Motion® and VB-Motion™ allow users to develop their own application using C/C++ or Visual Basic.
The ION Drive is CE marked and RoHS compliant. Prices start at $223 in OEM quantities.
Contact:
James H. Bailey
Marketing Manager
781.674.9860 Ext. 223
# # #