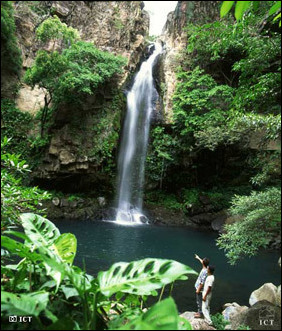 (PRWEB) December 15, 2005
December 14, 2005 – GoVisitCostaRica.com, one of the most referenced websites by Costa Rica travelers today, launches its new Rincon de la Vieja Area section. GoVisitCostaRica.com invites adventure lovers of all ages to explore the fantastic Rincon de la Vieja Area with its new map and area information.
Aiming to provide a more all-encompassing Costa Rican vacation, Go Visit Costa Rica's Rincon de la Vieja section lets one explore this gorgeous Central American country in depth, so as to have a truly terrific vacation. An eco-adventure hotspot, North Guanacaste is home to three national parks and one protected zone, offering tourists some of the most lush and tropical forest to trek, home to a plethora of fascinating and captivating plant and animal life.
With four volcanoes, namely the Rincon de la Vieja, the Orosi, the Santa Maria and the Miravalles, all within close proximity to one another, North Guanacaste is perhaps one of the most easily accessible places in the country, less than an hour away from the Daniel Oduber International Airport in Liberia, Guanacaste.
Encompassing the Parque Nacional Santa Rosa, the Parque Nacional Rincon de la Vieja, the Parque Nacional Guanacaste and the Zona Protectora Miravalles, North Guanacaste boasts breathtaking vistas atop volcanic craters, stunning sceneries, glorious waterfalls, meandering hiking trails, bubbling mud pools and soothing hot springs.
An adventure lover's dream destination, the Rincon de la Vieja Area in North Guanacaste is also a historically significant with the Battle of Hacienda Santa Rosa fought here in 1856 in the Santa Rosa National Park. This battle's importance lies in the fact that a militia army of Costa Ricans drove out American filibuster William Walker from the country into neighboring Nicaragua.
A great way to explore this fabolous area is via a canopy tour. Offering some truly dramatic views of the forests below, a canopy tour lets one spot some of Costa Rica's incredible wildlife high atop one of the last remaining tropical dry forests in Central America. For the more adventurous, try tubing down the many rivers in the area or enjoying a quick dip in hot sulphurous springs. The horseback riding trails here are some of the best in the country, or if you are an avid surfer try surfing at Witches Rock, considered to be one of the best surf breaks in the world. For those who are more daring, a climb to the top of the Rincon de la Vieja summit is an awesome sight to behold.
###