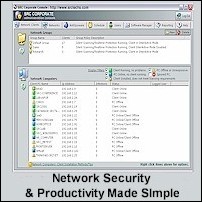 Hilliard, OH (PRWEB) December 13, 2005
The current state of business networks and security
Presently there are many cases of network spyware and adware infection. They cause significant financial and information losses. A lot of companies use public Internet Mail services in their business negotiations, bargaining processes, transactions, deals, sales arrangements and otherwise. But using public Internet Mail services increases security risks as does of course hacking and unauthorized access by insiders.
It is common knowledge and plenty of examples that a large amount of work time (about 30%) is wasted on non-work-related tasks, for example, streaming media or X-rated websites and downloads. Such activity does not profit a company.
Taking into account the actual state of affairs on both large and small corporate networks it is vitally necessary for companies to place their network activity under more strict controls.
SRC Corporate is a specially designed powerful tool that can control network processes and activities of network users by using a system administrator with a vast range of functions, options and ways to improve the functioning of a corporate network.
What should a network control solution actually do?
The software, first of all, should protect a corporate network from spyware/adware, worms, trojans, and other threats. Secondly, the software should control all users of the network without exception. It should also monitor the user's network activity, and, naturally, user Internet-activity. And of course, a program should approve or prohibit, when needed, certain hosts, IPs, web-pages or other determined activities for all users at once or for some one user individually.
It is highly essential to control a user's system remotely – to get system hardware/software information and PC performance information; monitor its screen view and, if needed, control the mouse and keyboard as though network administrator was sitting at that very desktop and seeing what window was opened at that moment. And of course, without doubt, a good application should perform in real-time and seamlessly. Further, it would be nice if the application could establish network messaging, logging, user restrictions and other useful tasks that the company needs. A wish list of possible features can be prolonged as far as the imagination can reach. SRC Corporate can probably fulfill that list and even more, it is a remarkably unique piece of software.
At the very beginning, SRC Technologies gave proper weight to the demands and wishes of the experience of many network administrators and then developed a splendid network managing platform that did a job that needed to be done -- SRC Corporate.
How does SRC Corporate work?
The program is designed to be split aggregately as in a client-server system. The program architecture has two basic parts -- client unit (SRC Corporate Client) and server one (SRC Corporate Admin Console). The application allows an administrator to create a network managing structure with a client unit on the user's computers and a server console on the administrator's workstation. One of the most attractive features of SRC Corporate is that when using the user can scale down the whole system so it will fit companies of any size -- it seamlessly deploys in the network with just a couple of mouse clicks.
SRC Corporate Client possesses several unique functions. For instance, the Live Monitor function can continually monitor the user's system to keep it free of Spyware in real time. There are also various options that a user can choose to help to keep the user's system uninfected or undamaged. For example, the program can terminate running spyware or/and adware or automatically delete cookies if they are identified as spyware. It is also easy to find any other relevant information about using SRC Corporate at Help or its online Knowledge Database.
Here are some of its main features:
Spyware-Adware detection and removal eliminates spyware, adware, trojans, key-loggers and others from a network by using an extensive database of known spyware, adware, trojans and other threats. These include Network Real-time Protection; Interactive or Non-Interactive to Network Users; Seamless and Invisible Scanning; Auto Termination of Running adware/spyware; Auto deleting and Tracking of cookies; Browser Protection Control; Protection against an activeX object that executes through IE; Scheduled Scans, Hourly, Daily or Weekly; Maintenance of PC's while employees are out of office).
–The Centralized Administration Console (allows network administrators to configure clients, manage updates, alerts, schedule scans, view reports and perform real-time scans of remote machines) offers:
Seamless, Scalable Deployment
Remote Computer Control
Wake On Lan & Power Down Network ( turns all client machines on the network ON & OFF at scheduled times remotely)
Automatic Install of Windows Security Updates
Software Management to manage software licensing and search for a particular software or unwanted software on any network PC
Company Communication (supports individual chats and messaging)
Computer-Troubleshooting/Reporting (collects and logs system information: Operating System, Processor, Processor Speed, Current Memory. Memory Used, IE History, IE Objects, Applications Running on Reboot, Installed Applications, Running Applications)
Software Deployment (a remarkable feature that spares the need for physical moves around the company and installs any software on client machines manually)
Solid Customer Support
SRC Corp Free Trial software enables you to evaluate the product on your network before making a purchase decision. Trial versions contain all the functionality of the regular version, but can only be used for 30 days.
http://www.srctechs.com/30dayregister.asp
SRC Corporate is a professional, flexible and unique program. There is too little space in this review to describe all features of this remarkable software. Indeed SRC Corporate is a platform that is an irreplaceable tool for any serious network.
# # #