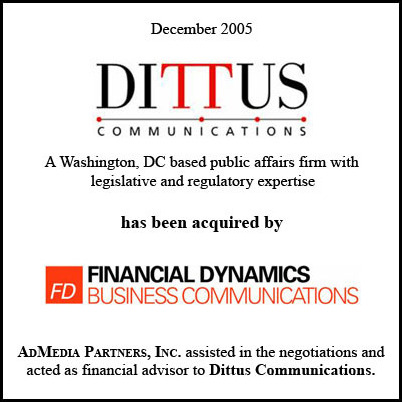 Public Affairs Executive of the Year
NEW YORK (PRWEB) December 8, 2005 –
Financial Dynamics, a leading business communications and consulting firm, announced on Monday the acquisition of Dittus Communications, a Washington, DC-based public affairs firm with legislative and regulatory expertise. AdMedia Partners (http://www.AdMediaPartners.com), a New York investment bank specializing in mergers and acquisitions advisory services to the marketing communications, media, interactive and information services industries, represented Dittus Communications. The deal marks the ninth completed acquisition transaction in the past six months for AdMedia Partners.
The official release from Monday, December 5 is as follows:
Financial Dynamics (FD) today announced the acquisition of Washington D.C.-based Dittus Communications, one of the nation's pre-eminent public affairs firms, marking a significant expansion of FD's global public affairs offer.
Established in 1993, Dittus serves national and international clients and is recognized as a leader in issues management and advocacy work, crisis communications, coalition building, grassroots organizing, and government-sector marketing communications. The firm has a deep understanding of the inner workings of the U.S. Congress, state legislatures and federal government agencies, plus expertise in key sectors including technology and telecommunications, energy and the environment, transportation, food and agriculture and the nonprofit sector. Led by company founder Gloria Dittus, the firm's client roster includes The Home Depot, Qwest, Tyco, Dell, SAP, Pharmaceutical Research and Manufacturers of America (PhRMA), the Business Software Alliance, the American Council for Food and Nutrition and the Alliance to Save Energy. The firm is staffed by more than 50 senior professionals with backgrounds that include Capitol Hill, the Administration, state and local governments, trade associations, corporations, professional newsrooms, and other public relations agencies.
"The increasing complexity of conducting business in a heightened regulatory environment has driven a corresponding demand for increasingly sophisticated public affairs-oriented services on a global scale," said Declan Kelly, CEO, Financial Dynamics-US. "With the acquisition of this influential specialist group, FD can now advise clients on global public affairs issues with the expanded scope of services they demand. Dittus has earned an unsurpassed reputation for successful legislative and regulatory communications counseling and is best known for delivering victories for clients on many significant issues including nutrition, homeland security and trade relations with developing nations. Under Gloria's leadership, the firm has grown into one of Washington's largest public affairs firms and we welcome them to the FD network."
Commenting on the agreement, Gloria Dittus said, "Public affairs communications in this day and age require far more sophisticated solutions that address government and business audiences, as well as the many circles who influence them. Joining the FD network gives us the opportunity to offer such capabilities to a broader set of clients, and also to bring global reach and additional resources to those we've traditionally served.
I'm looking forward to achieving new successes as part of FD International."
Through the acquisition, FD's expanded public affairs offer can now deliver further insights into public policy and legislative issues shaping State, national and international policy through an extensive array of services including issues management and advocacy work, coalition building, grassroots organizing and legislative strategy. Together with FD's thriving Washington D.C. office and its international network highlighted by LLM, the UK's leading public affairs firm, FD is uniquely positioned to meet the needs of a global clientele seeking the most sophisticated public affairs counsel. Stan Collender, who opened FD's office in Washington almost two years ago, will continue to run that office.
Dittus will retain its brand and operate as Dittus Communications, a Financial Dynamics company. Gloria Dittus, founder and CEO, will continue to head up its operations and will join the FD-US board of directors. Ms. Dittus is highly respected throughout the consulting industry and with almost three decades of Washington experience, brings a sophisticated understanding of government affairs and legislative and regulatory issues. PR News named her "Public Affairs Executive of the Year" in 2004. Most recently, she was selected by the Washington Business Journal as one of the region's "Women Who Mean Business," an honor reserved for the region's most influential and powerful women executives.
About Financial Dynamics (FD)
FD is a leading business communications and consulting firm with a 20 year history advising clients' senior managements in corporate and financial public relations, investor relations, transaction communications public affairs and crisis communications. Co headquartered in London and New York, FD provides seamless cross-border support through a network of offices across Europe, North America, Asia and the Middle East. FD recently formed a Business Consulting practice through the acquisition of management consulting firm Westhill Partners to provide clients with a broader range of solutions to address the critical business issues facing their organizations. The firm is structured around specialist sector teams operating on an international basis and is management owned in partnership with private equity firm Advent International. For more information, visit http://www.fd.com.
About Dittus Communications
Dittus Communications is a full service public relations firm serving national and international clients. Headquartered in Washington, D.C., Dittus is best known for delivering legislative and regulatory victories for on behalf of its clients. With an array of services, including media relations, issue advocacy, grassroots and corporate branding, combined with the firm's continual growth, Dittus was honored as the 2003 Public Affairs Agency of the Year. For more information, visit http://www.dittus.com.
About AdMedia Partners
AdMedia Partners (http://www.AdMediaPartners.com) is a leading boutique investment bank that provides middle market mergers and acquisitions advisory services to advertising and marketing services, media and publishing, and related internet businesses. Founded in 1990 and located in New York City, the firm has completed over 100 transactions since 1999.
Selected transactions completed by AdMedia Partners in the last six months include:
Representing Federalist Group, a Washington, DC based government relations firm, in its acquisition by Ogilvy Public Relations Worldwide, a unit of WPP Group.
Representing Grupo Editorial Expansión, Mexico's second largest magazine publisher, in its acquisition by Time Inc., a subsidiary of Time Warner.
Representing Gruner+Jahr USA in its sale of Inc. magazine and Fast Company magazines to Mansueto Ventures LLC.
Representing Dynamic Logic, the leading independent marketing research company, in its acquisition by Millward Brown, a unit of WPP Group.
Representing Taylor Rafferty, an independent global investor relations and financial communications advisor, in its sale to Xinhua Finance, China's premier financial services and media company.
Representing Interweave Press in its acquisition by Aspire Media, a newly formed magazine entity backed by private equity firms Frontenac Company and Catalyst Investors LP.
For more information, contact:
Greg Smith - Managing Director
Phone: 212-759-1870
Phil Palazzo - Managing Director
Phone: 212-759-1870
AdMedia Partners
444 Madison Ave., 19th Floor
New York, NY 10022
# # #