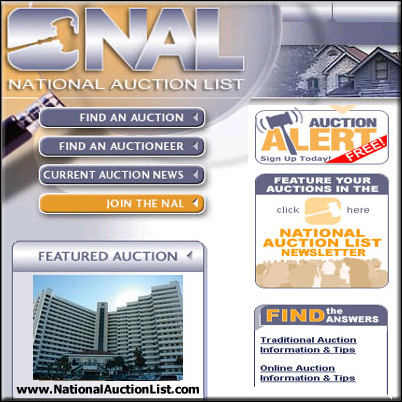 Our sister company Blue Ridge Digital Video Production has been producing professional grade video's for TV, CD, DVD and streaming for many years
Roanoke, VA (PRWEB) December 15, 2005
Roanoke, VA PRWEB) December 14, 2005 -- AuctionServices.com, Inc. announced today an exclusive working relationship with AuctionVideo.com, moving Auction Video's features and services into AuctionServices.com's automated calendar system. AuctionServices.com state of the art technology powers the live auction industry. As elegant as it is obvious, the new system makes it easy to add video clips with audio to auction pages on the Internet.
"The integrated an easy-to-use Auction Video interface blends seamlessly with all of the new features and options for auctioneers when posting an auction. With the inclusion of the AuctionVideo, the AuctionServices.com, Inc. calendar system stands alone as the leader in feature rich tools and services," said Richard Romanus, president and CEO of AuctionServices.com.
Currently the new calendar system is available across many high traffic websites including NationalAuctionList.com, 17 State Auction Associations, more than 350 auction companies, eight portal sites and the NAA (National Auctioneers Association).
"I expect many of the over 15,000 plus auctioneers in our database to use a video clip in place of text and one dimensional flat pictures," Romanus said. "We expect the bundles of services provided by Auction Video and AuctionServices.com to greatly enhance all types of auctions, items and searching experiences, providing greater customer retention."
Video is an obvious addition to auction pages, brining together advances both in Internet technology and in computer hardware. Anyone with a basic web cam can add a 60 second video and turn auctions from a one dimensional display of pictures and drab text into a dynamic viewing experience. Video is a practical, not merely an aesthetic addition. In one recent auction in which the seller used video clips, the item page received more than 17,000 additional hits and the winning bid was more than $13,000.
Video clips also aid an auction's credibility. Flaws that are relatively easy to hide in a photograph are much harder to cover up in a full motion video clip. "Crooks don't like to be photographed, much less appear on video," said Greg Ellis, AuctionVideo.com chief executive. "We found that showing the seller in the video along with the product for sale adds immense credibility, because the bidder can see the person they're buying from."
How The System Works:
A professional auctioneer logs in to the site and books an auction. They enter the basic information then select AuctionVideo from the external links section. The recorder interface opens allowing the auctioneer to record video on as little as a basic web cam. After recording is finished they can then review the video and rerecord it as many times as needed for the result they want. A one minute video costs less than $12 and the auctioneer can use the video for the duration of the selected auction or other auctions.
All that's required to create a video clip is a Web cam or USB enabled camcorder and microphone attached to your PC. AuctionVideo's Flash applet doesn't require installation, and shows your cam view in its own preview window.
"Our sister company Blue Ridge Digital Video Production has been producing professional grade video's for TV, CD, DVD and streaming for many years," Romanus said. "These clips are widely used by real estate auctioneers to promote and inform the public about their company and their auctions. The new do it yourself AuctionVideo interface will enable all auctioneers, no matter how small, to affordably experience the advantages that audio/video will deliver."
For more information on how the system works, visit http://www.auctionservices.com.
Contact:
Richard Romanus
AuctionServices.com
(540) 774-3444
###