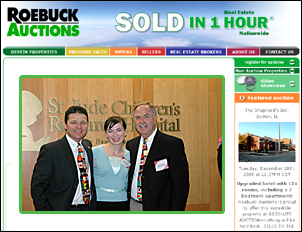 Like most of us, I wanted to help in any way I could. As soon as the doctors said the kids needed to come here, I told them we could have the plane in the air in 15 minutes
Memphis, TN (PRWEB) December 10, 2005
John Roebuck, founder of Memphis-based Roebuck Auctions, helps fragile Katrina's victims.
After Hurricane Katrina crashed into the Louisiana coastline leaving a wake of devastation, a group of pediatric cancer patients stranded without a way to continue fighting their disease.
Roebuck quickly offered the use of his company plane to transport Katrina's most fragile victims to Memphis in order to continue their treatment at St. Jude Children's Research Hospital.
"Like most of us, I wanted to help in any way I could. As soon as the doctors said the kids needed to come here, I told them we could have the plane in the air in 15 minutes," said Roebuck.
Once administrators realized they could get the children back to Memphis, they devised a plan to assess the needs of their patients and bring the sickest ones back to St. Jude, known throughout the world as a leader in cancer research.
Kevin Neinhuis, manager of Sports Marketing for St. Jude, said Roebuck has long been a supporter of St. Jude.
As a past president of the NAA, Roebuck lobbied for the professional group to make St. Jude the organization's national charity. Now thousands of auctioneers use their talents each year to help the hospital raise money to fund its mission.
St. Jude never charges patients above what insurance will pay and those without the ability to pay are treated free of charge.
About nationalauctionlist.com: The National Auction List (http://www.nationalauctionlist.com) is the Internet's largest online database of live auctions powered by AuctionServices.com. In addition to the hundreds of auctioneers hosted by AuctionServices.com, thousands of additional auctioneers list their auctions on the National Auction List. Many of these Auctioneers are members of the National Auctioneers Association and state auctioneer associations from coast to coast.
# # #